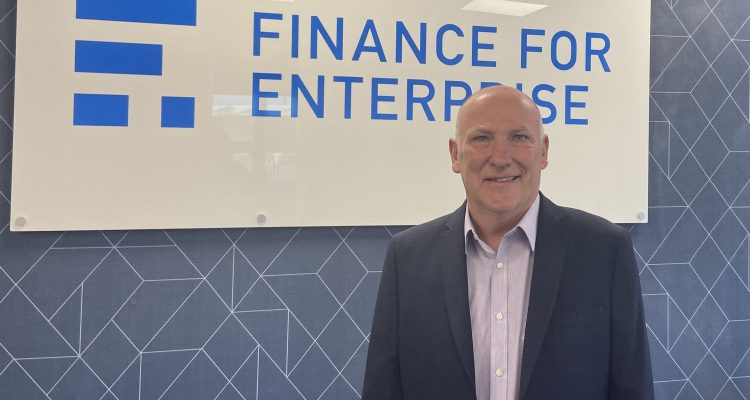 Meet the team: Dave Topliss
A familiar face amongst North East Lincolnshire's business community, Dave Topliss joined Finance For Enterprise's Grimsby team earlier this year.  After spending more than 16 years working in business banking, Dave is now using his knowledge and expertise to help SMEs in the region to access the funds needed to overcome the challenges posed by the Covid-19 pandemic.
What is your role at Finance For Enterprise?
As an Investment Manager at Finance For Enterprise, my job is to help businesses access the funds they need to grow. I work with business owners to discuss their lending needs and to help them understand the different lending options available.
An important part of my job at the moment is helping to guide business owners through the application process, as well as helping them to secure the financial support needed to help them overcome the challenges posed by the Covid-19 pandemic.
What is the most rewarding part of your job?
The best bit of my job is being able to help business owners to access the funds needed to develop and grow their businesses. I spend a lot of time in my job visiting businesses across the region and I am always amazed and fascinated by the different industries and sectors they work in. It illustrates just how rich and diverse our local business community is, and I find it very satisfying to know I've made a small contribution towards helping companies overcome the challenges they face by being able to secure the funds they need to put their plans into place.
Can you tell us about a deal you are particularly proud of?
I'm a relatively new member of the Finance For Enterprise team, but one of the deals I often think about was one I completed when I was working in my previous role. It involved a longstanding business, which was facing an uncertain future and even possible closure.
The owner was planning to retire and had started winding the company down; however, one of the company's employees felt the company still had a bright future and approached me for help to buy the business.
I was able to put together a lending package, which enabled him to buy the company and secure the funds he needed. I was proud of this deal as, when it comes to supporting new businesses, banks are often very cautious in their lending approach, especially when it comes to supporting new entrepreneurs. However, I was able to put together a package that not only prevented the company from closing, but under its new owner, the business has gone from strength-to-strength.
What was your favourite subject at school?
When I think back to my school days, it wasn't the lessons in the classroom I looked forward to most, it was my PE classes. I was an all-round sportsman, and whether it was playing cricket in the summer, racquet sports or athletics, it felt as if I could turn my hand to anything. My first love was football, and there was nothing I enjoyed more than representing my school and helping the team bring back silverware!
… And your worst?
Science. Whether it was chemistry, biology or physics, it was something that always filled me with a sense of dread!
What was your first job?
A family acquaintance ran a carpet business, and my very first job was working in their warehouse. My twin brother and I would spend our weekends and school holidays cutting carpets to size and using the huge electric pulleys to move the giant rolls of carpet into place. I knew it was something I didn't want to do for the rest of my life, but it was great fun!
After school, I secured a job as a bank clerk, and from there I steadily rose through the ranks to become a branch manager. Subsequently, I developed an interest in business banking.
Do you have any hobbies?
I've always been interested in football. As a youngster, I played for Grimsby Town's youth and reserve teams. I continued to play on a semi-professional basis for a number of local sides, only finally hanging my boots up a couple of years ago. I still enjoy football, and you can often find me at Blundell Park cheering on the Mariners. Also, until quite recently, in my spare time I coached a children's football team for 14 years.
What has been one of your most memorable achievements to date?
One of my longstanding dreams was to be able to line up in the same team as my son. It was something I'd dreamed about doing from him being quite young. As he grew up, it was clear that he was developing an interest in the beautiful game, and a few years ago, my dream of playing in the same side came true. After I'd spent three seasons playing in the same side, I felt like I'd achieved everything I'd wanted to as a player,  so I decided the time was right to hang up my boots for the last time.
Do you have any guilty pleasures?
I've always enjoyed a beer, especially when watching football. There are some fantastic microbreweries based in the region, and it's great to see a resurgence in the industry.
Do you have any unfulfilled ambitions?
I'd love to see  England play Australia for the Ashes down under, and I'd also like to see the British Lions play in South Africa. Putting sport aside, my partner and I are both quite big Elvis fans, and I think it would be amazing to go to Tupelo, Mississippi, to see where Elvis was born, as well as visiting his home in Graceland.
What advice would you give to someone who is considering a business loan?
Be open and honest with your plans, and perhaps most importantly of all, with yourself.  Borrowing too much money can lead to higher repayment amounts and eat into your profit margins, whilst borrowing too little can mean additional borrowing down the line.
Very often business owners only produce a business plan when they are thinking about borrowing money, but in reality, this should be a document that is reviewed and updated regularly. They can be a valuable way of looking at the performance of the business as well as looking at the steps needed to build and grow. The same thing also applies to financial forecasts.
What do you think makes Finance For Enterprise different to other lenders?
It's the personal approach. Many lenders, especially banks, look for reasons  not to lend to a business. At Finance For Enterprise, we look at how we can support businesses. Lending decisions are made by looking at a business holistically and understanding the impact of how funds provided will help a business to grow.
Loan applications are considered on a case-by-case basis, and as investment managers we spend time getting to know the business owners we help, often visiting them on site to understand how the company operates and the challenges they are facing. It's that personal touch that I think makes a big difference.