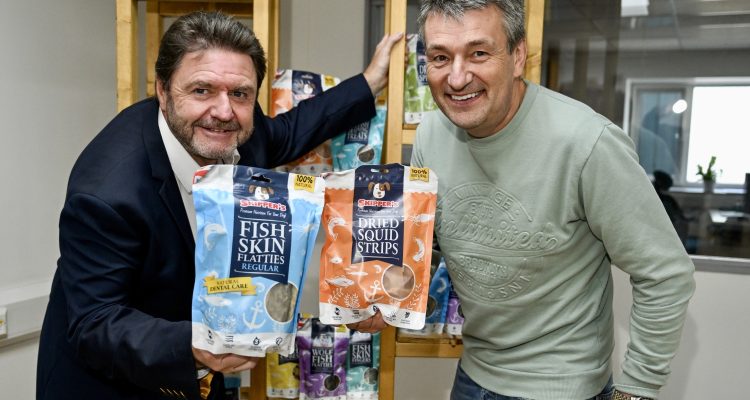 A Grimsby-based pet food manufacturer which produces a range of tasty treats for dogs, is scaling up its operations by relocating to new premises and increasing capacity, helping it to target significant growth in both the UK and international pet foods sector.
Skippers Pet Products approached Finance For Enterprise and the Northern Powerhouse Investment Fund (NPIF) for investment to help it lay the foundations for significant future growth after the company outgrew its existing facility. The business was performing exceptionally, with its turnover increasing by 500%, as well as seeing its workforce grow from eight members of staff to over twenty employees in the past year alone.
The unique company, is the only pet food provider in the UK who specialise exclusively in fish-based products, was launched by experienced fish merchant Steve Moore in 2013, after he spotted an opportunity to re-purpose co-products from high quality fish destined for the dinner table.
Using an ancient preserving technique, which can trace its origins back to the Vikings, fish are dried slowly at a low temperature, resulting in a nutritionally dense source of protein that is enjoyed by all dogs.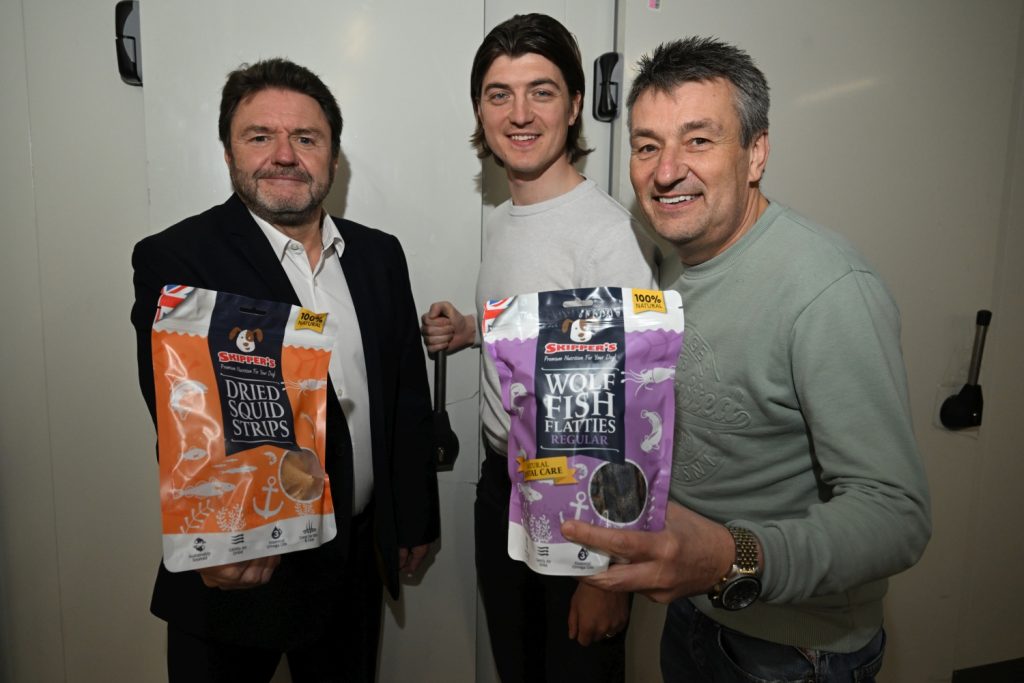 In recent months, the company has not only seen demand for its products increase within the UK, but also in several overseas markets, notably Canada and Hong Kong. In order to meet rising demand, the business would need a larger workforce, but with its existing facility already at full capacity, the experienced fish merchant knew the business required additional help to secure larger premises, and secure the vital equipment needed to increase capacity.
Working with Senior Business Lending Manager Tim Daniels, Finance For Enterprise helped the business to successfully secure an investment package worth £150,000, delivered through a £75,000 NPIF – FFE & BEF Microfinance loan backed by the Recovery Loan Scheme (RLS), and £75,000 directly from Finance For Enterprise.
With funds in place, Skippers recently relocated to larger premises at South Humberside Industrial Estate, allowing the company to improve efficiencies in its manufacturing processes as well as creating the vital additional working space needed to recruit up to ten members of staff to meet current demand.
Steve Moore, Managing Director, Skippers Pet Products, said:
"I've worked in Grimsby's fish industry since I was just 17 years old, and I recognised that when fish are prepared for human consumption, there can be large parts of the animal that simply goes to waste.
I began to realise that as well as offering a tasty treat for dogs, there can also be health benefits when fish is incorporated into their diet. For example, some of the feedback we've received from our customers has included positive changes in the pet's coat, teeth and even behaviour. In older animals the natural omega 3 found in fish can even help dogs suffering from inflamed joints and even arthritis, so I felt the business offered a golden opportunity to reduce the amount of waste being produced within the fishing industry, as well as improving the health and welfare of much-loved family pets.
Having firmly established ourselves as a market leader in our industry, we knew that it was important to cement this position. This meant increasing capacity to meet demand from both the home and overseas markets. Pet ownership during the Covid-19 pandemic increased dramatically, and having seen the business grow so quickly during the past two years, we felt it was imperative to act quickly. To do this we needed to secure additional funds to facilitate our relocation and investment in new equipment. Having worked with Tim and the Finance For Enterprise team previously, I felt he understood our business, and within a relatively short period of time, we received the call to say that our application had been successful.
The funds and help we've received have been transformational for our business, and through the support we've received from Finance For Enterprise, we're not just helping to improve the lives of much loved pets across the world, but we're also doing our bit to improve sustainability, as well as creating additional new jobs within Grimsby's fishing industry."
Tim Daniels, Senior Business Lending Manager, Finance For Enterprise, said:
"Skippers Pet Products is a great example of a business that has built on the heritage of Grimsby's historic fishing industry by finding new and innovative ways of bringing new products to market. Having met and supported Steve and his business previously, the business has a bright future ahead of it, not just by achieving growth in the UK, but also tapping into new international markets.
Steve is a person who is incredibly knowledgeable and passionate about Grimsby's fishing industry, and the innovative work he has pioneered is helping dog owners to reward their pets with naturally produced treats that can help to keep them fit and healthy.
Keira Shepperson at the British Business Bank said: "By supporting businesses like Skippers with the funds to recruit new staff and move to a larger premises, NPIF is one step closer to creating a more prosperous regional economy for the future. Skippers are a great example of Northern creativity, finding a unique product that brings specialist fish products to the pet foods industry. As the business looks beyond the UK's boarders to expand, we're looking forward to celebrating the milestones the team achieves in the future."
The Recovery Loan Scheme was specifically developed to help businesses impacted by the Covid-19 pandemic to adapt and respond to the challenges they faced, and with pet ownership reaching record levels during that time, Steve and his business is well placed to continue building on their strong growth journey to date."
All fish used by Skippers Pet Products is ethically sourced from sustainable fishing practices.
Headquartered in Doncaster and supported by a team of experienced business lending managers operating across Yorkshire, the Humber and East Midlands, Finance For Enterprise provides a range of tailored business loans up to £250,000, aimed at helping small and medium-sized businesses overcome barriers to growth. The not-for-profit organisation acts as a delivery partner for the Government-backed Recovery Loan Scheme and is also a fund manager for the Northern Powerhouse Investment Fund.
The Northern Powerhouse Investment Fund project is supported financially by the European Union using funding from the European Regional Development Fund (ERDF) as part of the European Structural and Investment Funds Growth Programme 2014-2020 and the European Investment Bank.