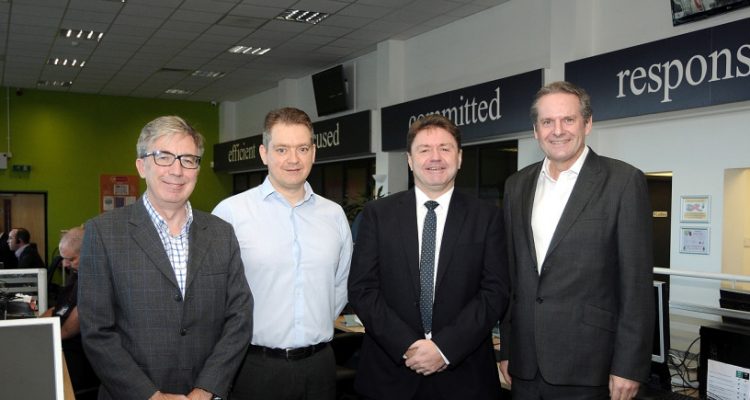 A Sheffield based telemarketing company is set to create up to 50 new jobs within the city after securing a £100,000 investment from NPIF-BEF and FFE Microfinance, part of the Northern Powerhouse Investment Fund (NPIF) following a prestigious contract win.
ANT Marketing, which operates from two locations in central Sheffield, was founded by Anthony Hinchliffe in 1989. Armed with just a telephone and his kitchen table, Anthony's business has grown to become a large employer in the Sheffield City Region, with more than 300 full and part-time employees.
With a growing customer base which includes household names such as British Gas, Nestle, Royal Bank of Scotland and The Economist, the telemarketing specialist approached Finance For Enterprise for support after securing one of its largest contracts to date.The sales, research and customer service support company successfully fought off competition from competitors across the UK and abroad to secure work with energy giant Scottish Power.
After hearing they had been successful in bringing the business to South Yorkshire, Anthony contacted Finance For Enterprise in a bid to secure the vital funds needed to add additional members of staff to his workforce, as well as providing working capital to invest further in the business.
Anthony was able to secure funding for his growth plans through the Northern Powerhouse Investment Fund which is backed by the Sheffield-based British Business Bank. Working closely with Tim Daniels, Investment Manager at Finance For Enterprise, the loan was secured within just one week.
In addition to adding 25 new members of staff to the business, the funds have enabled ANT Marketing to invest in its existing workforce. Twelve members of staff have been awarded promotions and the company is planning to appoint further 23 new members of staff within the next few weeks.
Anthony Hinchliffe, Marketing Director, ANT Marketing said:
"Over the past 28 years, we've been proud to have supported some of Britain's best known brands and the contract we secured with Scottish Power forms a key part of our future growth plans.
"We have always built our reputation upon providing high levels of customer service, the result of a comprehensive training programme which all our staff undertake. Investments in staff, training and new equipment can place considerable pressure upon our cash low – the lifeblood of any business, and so we called upon Finance For Enterprise to enable us to undertake the all-important preparation work, prior to the beginning of the Scottish Power contract.
"Finance For Enterprise were acutely aware of the time pressures we were facing, however, we were able to secure the finance we needed within just one week and as a result of the funding we've received, coupled with the success we've achieved to date, we're looking to add more people to our workforce."
Tim Daniels, Investment Manager, Finance For Enterprise said:
"ANT Marketing is a real South Yorkshire success story. From very humble beginnings it has evolved to firmly establishing itself as a large employer and revenue generator within the Sheffield City Region.
"Securing additional finance was critical to fulfilling the company's contractual obligations and vital in enabling the company to invest in its internal management procedures and staff to equip them with the skills and knowledge needed to succeed.
"As a not-for-profit organisation, Finance For Enterprise helps businesses to access a range of short and medium term loans to fuel future growth. In this case, the timing was critical. We discussed a number of different loan options and successfully brokered a deal to enable the company to access funding from the Government-backed Northern Powerhouse Investment Fund. I'm delighted to see that the result of this work has not only seen the creation of a significant number of new jobs, but has also helped to create an environment which has enabled ANT Marketing to prosper."
Mark Wilcockson, Senior Manager at British Business Bank, said:
"ANT Marketing is the type of growing business we aimed to support when we launched the Northern Powerhouse Investment Fund, earlier this year. We are committed to supporting business in the North and look forward to seeing NPIF providing more funding to businesses in the Sheffield City Region."
The Northern Powerhouse Investment Fund project is supported financially by the European Union using funding from the European Regional Development Fund (ERDF) as part of the European Structural and Investment Funds Growth Programme 2014-2020 and the European Investment Bank.