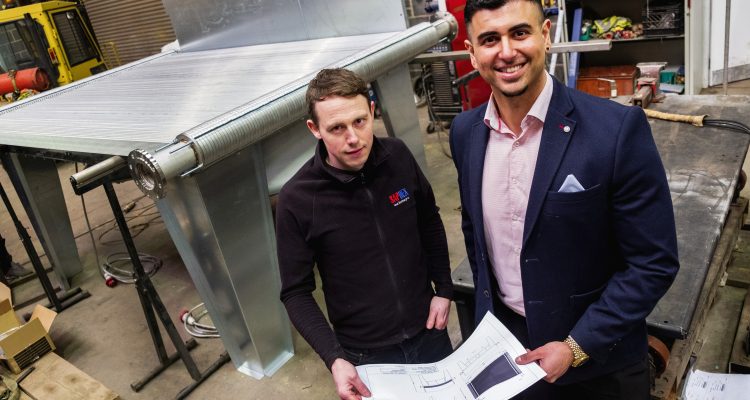 A Sheffield based engineering company, which is helping businesses recoup thousands of pounds in energy costs, is turning up the heat on its future growth plans after calling on help from Finance For Enterprise and the Northern Powerhouse Investment Fund.
Headquartered at Sheffield's Century Park Industrial Estate, Saphex manufactures, designs and repairs a wide range of industrial heat exchange units, which are typically used to help businesses regulate temperature during the manufacturing process.
Recognising that the primary purpose of a heat exchange mechanism is to remove excess temperatures typically generated during the manufacturing process, Managing Director Wayne Nelson began exploring ways of helping businesses to repurpose this energy elsewhere within the business, helping companies to save money on their heating bills, as well as reducing carbon dioxide emissions.
The solution Wayne and the Saphex team have pioneered is called Clix. The modular system draws on their extensive knowledge of the heat exchange industry, which transfers excess heat generated to be transferred to another source. The process allows surplus energy to be recycled and used elsewhere in the business.
Although the innovative work has taken nearly 15 years to perfect, the results have proved to be dramatic. During trials of the system, the innovative work phase helped one business to make savings in excess of £280,000 during the past 12 months alone.
Recognising the impact of energy price increases facing businesses operating in many different sectors, Wayne and the Saphex team felt the time was right to bring their years of work to market. However, to fully harness the potential offered by the new system, Wayne realised that additional funding would be needed and reached out to Finance For Enterprise for investment.
Working with business lending manager Gurinder Mandir, Saphex successfully secured a £150,000 investment, funded by Finance For Enterprise and NPIF – BEF & FFE Microfinance, which is managed by Finance For Enterprise and BEF and part of the Northern Powerhouse Investment Fund. The loans also utilise the Government backed Recovery Loan Scheme.
With funds in place Saphex is now targeting six figure growth within the next 12 months and has embarked upon a three-year growth strategy, which aims to see the business double in size over the next three years. Central to Saphex's growth plans, part of the funds will be used to invest in new software, which will be used to significantly reduce the amount of time taken to undertake the complex thermal calculations needed when designing heat recycling systems, ultimately helping to increase capacity within the business.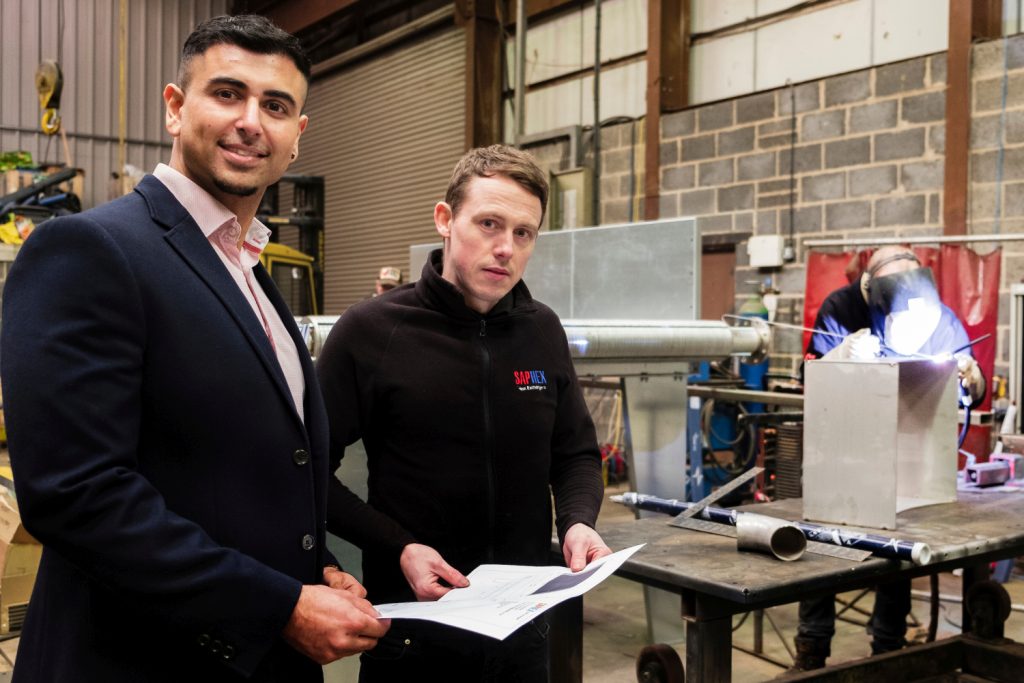 Wayne Nelson, Managing Director, Saphex, said:
"There remains a great deal of uncertainty surrounding energy prices, and this is having a devastating impact on businesses of all sizes. Energy intensive industries such as food production, chemical manufacturing and traditional heavy industries have been particularly hard hit, and we felt that the time was right to bring a product we've been working on for over 15 years to market.
By our nature, engineers are naturally very risk averse, but having perfected the system, we felt confident that our new Clix system could play an important role, not only in helping businesses to save money on their energy costs, but also by playing a part in reducing the carbon footprint of British industry. As a relatively small business, we knew that additional funds would be required to bring the product to market, and we decided to contact Finance For Enterprise to see if they could help.
I spoke to Gurinder, who explained the process to us and helped us prepare our application. He contacted us in January to tell us that our application had been successful, and since that time we've not looked back. With funds in place, we've been able to invest in the vital software needed to bring the product to market, as well as enabling us to increase capacity within our business to reduce. All of our products are manufactured in Sheffield and each system is tailored to meet the unique needs of the companies we help. As a result of the funding we've secured, we've not only been able to reduce the amount of time taken to develop each system, but it has helped to increase capacity within the business, enabling us to target significant future growth."
Gurinder Mandir, Senior Business Lending Manager, Finance For Enterprise, said:
"Saphex is a real success story for the British engineering industry. Although the work they have been producing has been quite a long time in the making, the launch of their Clix modular system is one that could prove to be a genuine gamechanger for energy-intensive businesses, which have seen their heating bills skyrocket in recent months.
Wayne and his team were quick to recognise the enormous potential of their truly innovative work, but they recognised that to unlock the potential in their ideas meant devoting additional time and resources to the project. Like many businesses, the Saphex team needed to balance investing in new technology whilst continuing to meet the demand for their Sheffield-manufactured heat exchange mechanisms. The funds will help the business to fully exploit the innovative technology they have developed.
Saphex was well placed to benefit from the Northern Powerhouse Investment Fund, giving Wayne and his team the opportunity to invest in the vital resources needed to capitalise on their innovative work, as well as helping the business to bring a unique product to market that will help companies working in many different sectors to mitigate rising energy costs, as well as making a positive contribution towards the environment."
Sean Hutchinson, Senior Investment Manager at the British Business Bank said: "Saphex has demonstrated exceptional innovation in pioneering the Clix modular system. It has the potential to revolutionise the energy-intensive manufacturing industry, providing a much-needed respite from soaring heating expenses whilst aiding wider national goals of achieving net zero by reducing carbon dioxide emissions."
"It's exciting to see British innovation prosper, as Saphex has leveraged its innovative technology to cement their position as trailblazers in the sector. NPIF support has allowed them to expand their capabilities, pursue substantial and consistent growth, and pave the way for a more efficient and sustainable future."
Headquartered in Doncaster and supported by a team of experienced business lending managers operating across Yorkshire, the Humber and East Midlands, Finance For Enterprise provides a range of tailored business loans up to £250,000, aimed at helping small and medium-sized businesses overcome barriers to growth. The not-for-profit organisation acts as a delivery partner for the Government-backed Recovery Loan Scheme and is also a fund manager for the Northern Powerhouse Investment Fund.
The Northern Powerhouse Investment Fund project is supported financially by the European Union using funding from the European Regional Development Fund (ERDF) as part of the European Structural and Investment Funds Growth Programme 2014-2020 and the European Investment Bank.