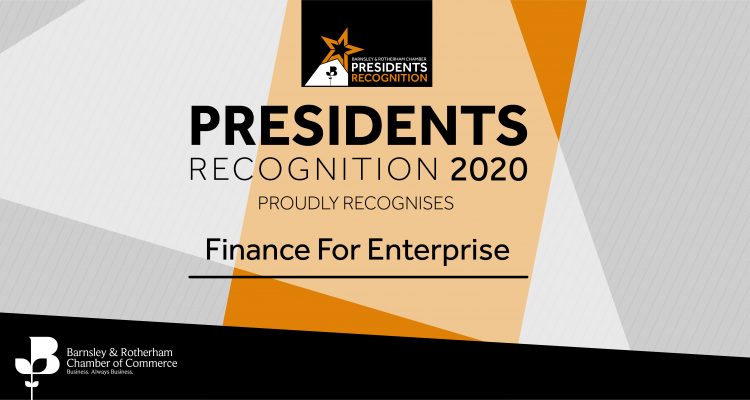 We are thrilled to announce our team has received a special 'President's Recognition', from Barnsley and Rotherham Chamber.
Launched to celebrate and recognise work undertaken by chamber members which made a positive and remarkable impact on their local economies throughout 2020, we were one of 24 businesses from across South Yorkshire to gain recognition.
Since the beginning of March, our whole team have worked tirelessly to help businesses access the vital finance needed to navigate their way through the Covid-19 pandemic. The funds we have provided, both to existing businesses through the Coronavirus Business Interruption Loan Scheme, as well as helping new entrepreneurs to realise their ambitions by delivering start-up loan funding.  The result of our work has helped to safeguard and even create new jobs, enabled businesses to diversify and innovate, whilst crucially supporting the local communities they serve.
To meet the high demand for business lending, we have welcomed new members to our team of knowledgeable and experienced Investment Managers, with many going above and beyond the call of duty to ensure businesses are able to access the vital funds needed, providing a vital lifeline to many, at times when they are needed the most.
Since March, we provided support to businesses across the region, helping 124 start-ups secure vital funding, granting over £12 million in overall business lending, safeguarding, and creating over 1200 jobs. It has been a busy year for everyone, but seeing our efforts recognised by the Chamber was an incredible way to end our 35th year.
Andrew Austwick, Managing Director, Finance For Enterprise said:
"For some, 2020 was perhaps a year to forget, but I'm proud of the efforts of our whole team help businesses at the times when they needed it most. Small businesses are the backbone of the local and regional economy and our team went above and beyond to call of duty to ensure finance was secured quickly, enabling them to navigate their way through the uncertainties posed by the Covid-19 pandemic.
"To be recognised by Barnsley and Rotherham Chamber of Commerce for the 'President's Recognition' is an incredible achievement and I'm proud that the work of our team has been recognised in this this way."