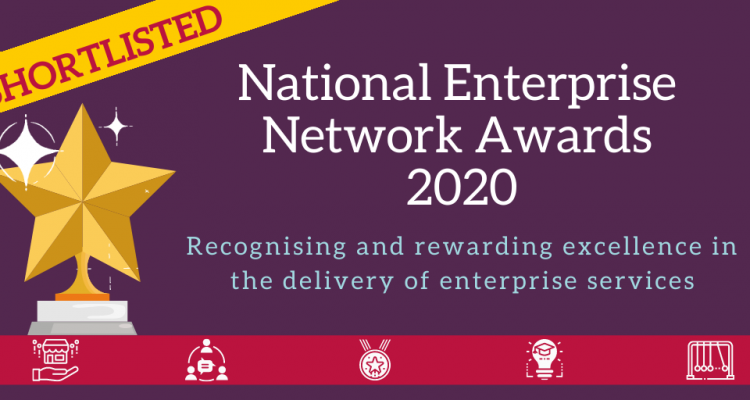 We're delighted to announce Finance For Enterprise has made the shortlist at the National Enterprise Network Awards.
This year the team has been shortlisted in the Enterprise Impact Award category, which recognises the contributions made by business support organisations to help businesses across the UK. The Enterprise Impact Category is a new award which showcases the work being delivered by support organisations like Finance For Enterprise as it helps businesses to overcome the challenges posed by the Covid-19 pandemic.
Since March 2020 the financial support provided by Finance For Enterprise has helped businesses to safeguard more than 1200 jobs. Finance For Enterprise's social impact report has revealed the funds provided to support existing businesses and new entrepreneurs has helped to add more than £55m to the local economy.
It is the fourth consecutive year Finance For Enterprise's efforts have been recognised by a place on the National Enterprise Network Awards shortlist and is hoping to match the success it enjoyed in 2016 when the alternative lending provider secured the title of Enterprise Communicator of the Year.
The winners of the 2020 NEN Awards will be announced during a virtual ceremony which takes place on 10th December.
Alex Till, Chairman, National Enterprise Network said:
"The organisations featured on the 2020 National Enterprise Network Awards shortlist have all clearly demonstrated excellence in the delivery of enterprise support, or work taking place in educational settings which are focused on embedding entrepreneurial spirit and enterprise into this environment.
"Selecting a shortlist is never an easy task, but reading through all of the entries provided a great insight into some of the fantastic enterprise related initiatives and committed professionals working incredibly hard across the whole of England in these challenging times. We've always been proud of the work of our members and wider network and congratulate everyone who has been shortlisted."
Andrew Austwick, Managing Director, Finance For Enterprise said:
"Securing a place on the shortlist of the National Enterprise Network Awards is a terrific achievement by the team. In a year which has presented more difficulty than most for many business owners, the whole team at Finance For Enterprise has risen to the challenge, often going above and beyond the call of duty, and securing a place on the short list is a testament to their hard work and dedication.
"I'm hopeful we can go one stage better and end our 35th year on a real high when the winners are announced next week".