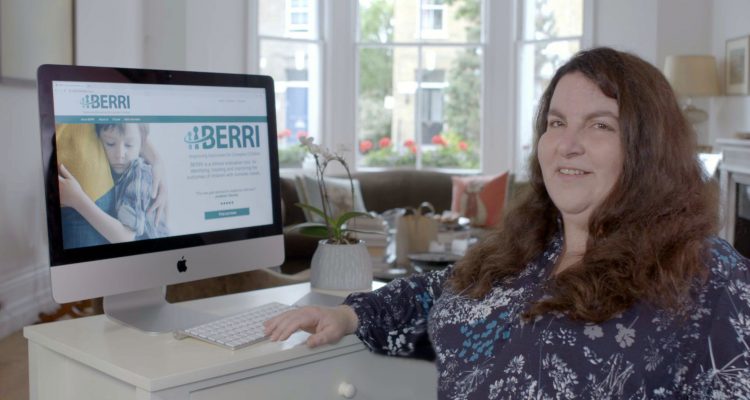 A Matlock-based clinical psychologist who pioneered a ground-breaking assessment and intervention system to improve the life chances of some of Britain's most vulnerable young people is hoping to roll out her work across the UK after securing a six figure CBILS-backed business loan, jointly funded by Finance For Enterprise and the Northern Powerhouse Investment Fund, NPIF BEF & FFE Microfinance, part of the Northern Powerhouse Investment Fund.
LifePsychol has received £152,000 of loan funding through the Coronavirus Business Interruption Loan Scheme. At a time when the business faced the prospect of furloughing some of its workforce due to the impact of Coronavirus, the support provided by Finance For Enterprise has enabled the business to adapt to a changing business environment as well as providing the financial support to fund a PhD scholarship, which will be used to continue the company's ground breaking research programme.
Founded in 2011 by Dr Miriam Silver, LifePsychol has developed a new approach designed to assess the needs of children living in Local Authority care so they can have more appropriate support, whilst crucially helping local authorities and NHS providers to make significant cost savings.
Dr Silver's research identified that the traumatic experiences of young people, prior to entering the care system, would often result in them going on to lead unhappy or dysfunctional lives in adulthood. She identified the care system was typically used to house children, rather than address their mental health needs and would at best treat the symptoms, rather than the root causes of behavioural issues. This often meant underlying mental health conditions were left unrecognised and untreated – making it more likely that children would have mental health problems requiring inpatient treatment or become substance dependent, homeless, involved in gang activity or even face terms in prison as they reach adulthood.
Drawing on her 16-year career as a lead clinical psychologist with the NHS, where she specialised in Child and Adolescent Mental Health, Dr Silver began developing a framework which was capable of not only identifying underlying psychological needs, but crucially giving advice to carers and signposting appropriate interventions and support. The framework is used to monitor a child's progress, with treatment adjusted as the conditions improve.
The result of Lifepyschol's research was an online assessment tool called BERRI, which evaluates a child's Behaviour, Emotional wellbeing, ability to form Relationships, potential Risk, and Indicators of underlying psychological conditions such as autism, OCD, post-traumatic stress, or psychosis, enabling appropriate care paths to be developed.
The work pioneered by LifePsychol has been trialled in a number of settings, where Dr Silver and her team have worked with some of the most vulnerable and high risk children living in the UK, many of whom were previously considered to be unsuitable to be placed with foster parents, due to their complex underlying mental health conditions. The system is now used in more than 165 children's homes as well as secure units, fostering agencies, schools and therapy services. Following the success of her book, 'Attachment in Common Sense and Doodles', she has also developed training about attachment and trauma that has helped to equip more than 2,000 carers and professionals with the skills to identify and address challenging behaviour. The LifePsychol approach has enabled staff working in the care system to provide appropriate interventions and has meant some of the children involved with the trial have been successfully moved from residential care and been placed with foster families.
However, when the Coronavirus pandemic threatened to disrupt LifePsychol's pioneering programme, and recognising that the associated mental health issues and emotional distress caused by lockdown measures would add further burdens to already over-stretched resources, Dr Silver approached Finance For Enterprise for help.
Working with experienced investment manager Tim Daniels, a loan funding package was put together, bringing together funds provided by Finance For Enterprise and the Northern Powerhouse Investment Fund.  The support provided will help the business to invest in new technology to support secure video consultations, as well as using some of the CBILS funding to continue to invest in the development of its BERRI platform to make this available directly to parents and carers.
To date, LifePsychol's work has helped local authorities to make savings of more than £1 million per year, whilst crucially achieving improved outcomes for the children supported through the programme. Such has been the success of LifePsychol's work that Dr Silver has presented her findings to a Government Select Committee and specialists at the Department for Education. She believes her pioneering work could ultimately transform care for vulnerable children, and help local authorities to make cost savings in excess of £100 million per annum.
In addition to the BERRI programme, LifePsychol delivers a range of work including training, psychological assessments, court expert witness reports, consultations and service development work.
Dr Miriam Silver, Director, LifePsychol said:
"The impact of Coronavirus has forced us to review many of our working practices and placed a question mark over whether we could continue key elements of our work. After spending time reviewing different options, I approached Finance For Enterprise to see whether my business would be eligible for financial support. At a time when I thought it would have been inevitable for us to furlough staff and scale back some of our operations, we are able to continue developing our BERRI programme which will enable us to roll out our work across the UK.
"Demand for mental health services has risen sharply in recent years, yet with many services already stretched, it can lead to people facing lengthy delays to receive the vital help they need. This has been made worse by the effects of the Coronavirus lockdown. For some of our most vulnerable children this can severely limit their future life chances. My research revealed there were two key issues which needed to be addressed – identifying psychological needs and equipping parents and carers with the skills to provide the vital support to help improve their life chances.
"The result of our work could bring about significant changes in the way mental health support is delivered, potentially helping to improve the life chances of some of the most vulnerable members of society, whilst also reducing significant cost pressures on local authorities and NHS providers. The cost of providing a single residential care place can be in the region of £200,000 per year, meaning that we need to use this specialist resource for the children who most need it. Using residential care for shorter periods or earlier in the child's journey can provide long term benefits to the child as well as helping to free up vital funds to deliver more sustainable mental health services."
Tim Daniels, Senior Investment Manager, Finance For Enterprise said:
"The Coronavirus Business Interruption Loan Scheme was created to help businesses to adapt and evolve as a direct result of the pandemic. As a result of the funding we have provided LifePsychol has been able to successfully adapt its business model, ensuring it can continue to deliver its core services, whilst providing the vital capital needed to continue developing its unique research.
"At the same time, the services provided by LifePsychol are not only helping to give some of the most vulnerable members of society an opportunity to receive the vital help and support needed as they enter adulthood, but their ongoing research work could help to bring about significant changes to the way in which mental health services are delivered across the UK"
Finance For Enterprise provides a range of tailored loans up to £250,000, aimed at supporting SMEs throughout Yorkshire and the North Midlands. The company is a delivery partner for the British Business Bank-backed Coronavirus Business Interruption Loan Scheme and acts as fund manager for the Northern Powerhouse Investment Fund and Start Up Loans UK.
The Northern Powerhouse Investment Fund project is supported financially by the European Union using funding from the European Regional Development Fund (ERDF) as part of the European Structural and Investment Funds Growth Programme 2014-2020 and the European Investment Bank.
The Coronavirus Business Interruption Loan Scheme (CBILS) is managed by the British Business Bank on behalf of, and with the financial backing of the Secretary of State for Business, Energy and industrial Strategy (BEIS).
CBILS provides facilities of up to £5m for smaller businesses who are experiencing lost or deferred revenues, leading to disruptions to their cash flow. Delivered by the British Business Bank, through 40+ accredited lenders and partners, CBILS will support the continued provision of finance to UK smaller businesses during the Covid-19 outbreak.