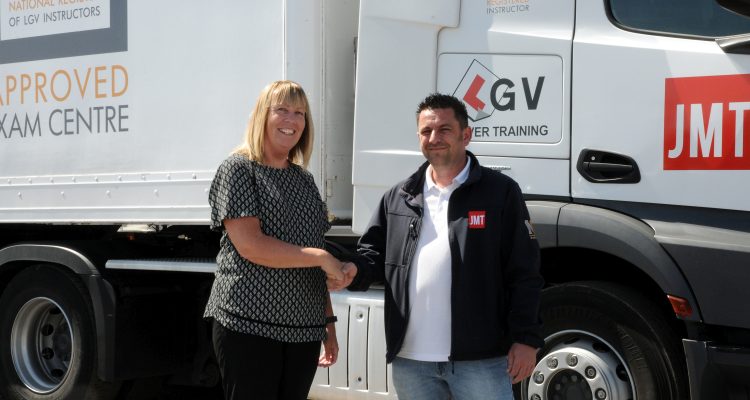 An Immingham-based LGV training specialist has seen his business grow by more than 600% over the past two years after calling on help from alternative lending provider Finance For Enterprise.
JM Trucking called on support from Finance For Enterprise to help the business purchase its first dedicated training vehicles, after seeing demand for its services boom after securing a number of contracts with hauliers based throughout the region. The funds have enabled director Jamie Wright to purchase an 18 tonne rigid body truck as well as a 44 tonne articulated vehicle.
Jamie was always destined for a career in transport. From an early age he would spend his school holidays with his lorry driving grandfather, where he developed an interest in the industry. When he reached his 25th birthday, Jamie successfully passed his LGV driving test, allowing him to follow in his grandfather's footsteps, before moving into a traffic management role where he gained an insight into logistics planning. Drawing on his experiences and realising that many hauliers were facing a shortage of skilled drivers, he decided to use the knowledge and expertise he had developed to help others embark upon driving careers by launching JM Trucking, a dedicated goods vehicle driving school.
Keen to keep his running costs low, Jamie secured leasing agreements from a local haulier but as the business began, he realised the company needed its own fleet of vehicles and so he approached his local bank for help.
Unable to support Jamie's vision, the bank referred Jamie to Finance For Enterprise. Working alongside an experienced investment manager, he began to write down his ideas and began formulating his business plan, quickly revealing the significant growth potential of his business venture.
With robust plans in place to back his vision, Jamie was able to secure the funds his business needed, enabling him to turn his attentions to scouring the marketplace for suitable vehicles. After sourcing two trucks from the Midlands, which he painted up in his company livery, Jamie is driving towards a six-fold rise in growth, seeing his turnover rise dramatically from just £30,000 in 2017 to over £200,000 in the current financial year.
Since the beginning of the year, JM Trucking has helped more than 2,500 drivers to complete their mandatory CPC training, as well as helping more than 55 drivers to pass their category C and C+E driving qualifications over the past twelve months.
Jamie Wright, founder, JM Trucking said:
"Since securing support from Finance For Enterprise, the business has grown beyond my wildest dreams and we are on course to enjoy a record year and I knew that developing my own fleet of training vehicles would be central to the company's future growth plans.
"I began my business back in 2013 because I realised the haulage industry is changing. An ageing workforce, coupled with more stringent regulations has seen a growing shortage of drivers and drawing on my skills and experience, I felt I'd spotted a golden opportunity.
"The two trucks I chose are the ones typically used by hauliers throughout the UK and I felt investing in the vehicles would help to equip learners with the vital skills to be able to drive safely. As a driver myself, I knew it was important to give drivers the experience of driving larger vehicles, to enable them to not only develop the essential road skills needed to drive safely but to understand how the vehicles perform. In my experience when the smaller 12 tonne trucks are used, it can be very daunting for a new driver to handle the larger vehicles.
"Until the beginning of this year, I was reliant upon leasing vehicles to provide training, which meant that the business was very much dependent on word of mouth within the haulage industry to generate new business. Since we purchased our own vehicles, with the help provided by Finance For Enterprise, we've seen the number of enquiries increase dramatically, because the business is much more visible and the success we've achieved has given me the confidence to continue developing the business further.
Jane Cusse, Investment Manager, Finance For Enterprise said:
"The support we provided for JM Trucking has helped the business to enjoy a significant period of growth. When I first met Jamie, it was clear that he had big plans for his family business and I spent time working with him to put his ideas down on paper.
"Those ideas were developed into a business plan, allowing us to understand why the loan was needed and what it would be used for and we were able to fund his application. As a result, we provided lending to JM Trucking at a time when he was unable to secure a business loan from a bank. As a direct result, the business is on course to enjoy a record year of growth, whilst laying the foundations for continued future expansion."
Finance For Enterprise provides a range of tailored loans, aimed at helping SMEs throughout the Sheffield City Region and North East Lincolnshire. The company acts as a fund manager for the Northern Powerhouse Investment Fund and The Start Up Loans Company and provides business loans up to £250,000.