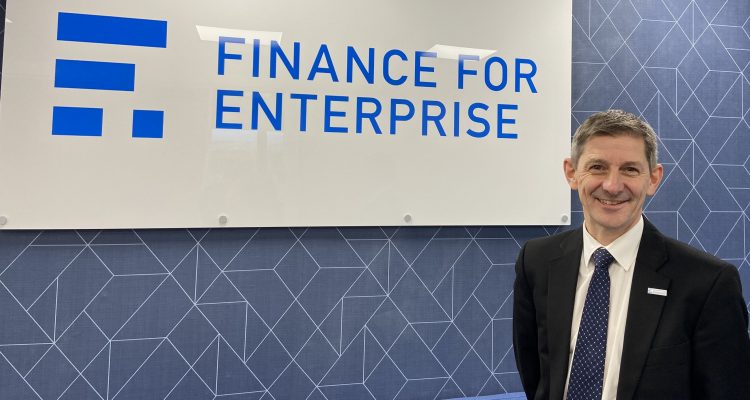 Doncaster-based alternative lending provider Finance For Enterprise has strengthened its team of Investment Managers after appointing experienced banker and business support manager, Jeremy Meadowcroft.
The experienced Investment Manager who has helped to support SME business owners for much of his career will be responsible for helping business owners across the region to access a range of tailored business lending support packages including access to the Government-backed Coronavirus Business Interruption Loan Scheme (CBILS), delivered by Finance For Enterprise, as well as nurturing new entrepreneurs through Start Up Loans.
Jeremy spent 30 years working in the banking sector, where he rose through the ranks to become a branch manager, developing a particular interest in helping owner-managed businesses to prosper, before making the switch to commercial banking. In recent years Jeremy has also used his skills to help growing businesses secure business angel investments, matching business hopefuls with experienced private investors, hosting & running monthly 'Dragons Den' equity pitch day events which brought together business owners and investors from across the North of England. He is known for his speaking and presentations at many events of "how businesses can access funding for their business" & delivers workshops & webinars to help business owners find the funding they need.
Outside of the office Jeremy is a qualified football coach and has played an active role in grass roots football for over 15 years. He coaches children and helps clubs become financially sustainable, where he acts as a club mentor for North Yorkshire Sport. In 2014 Jeremy's love of the beautiful game saw him presented with a special citizen recognition award by Calderdale Council for his work as chairman of his junior football club, which he helped to secure over £127,000 of funding to build a clubhouse as well as installing a life-saving defibrillator near the ground for the benefit of the wider community.
Jeremy Meadowcroft, Investment Manager, Finance For Enterprise said:
"Businesses are the backbone of the British Economy, yet all too often their success can be stifled simply because they are unable to secure lending at the times when they need it the most. Finance For Enterprise operates in a very different way to traditional high street banks and joining the team is an exciting new chapter in my career.
"One of the most rewarding parts of joining an organisation like Finance For Enterprise is being able to help companies secure the vital funds needed to grow. All too often lending decisions are made based on computer algorithms rather than delving beyond the data to really get to know the business and people behind it. I've always enjoyed helping businesses and joining Finance For Enterprise is a challenge I am relishing.
Andrew Austwick, Managing Director, Finance For Enterprise said:
"Since the beginning of the pandemic, Finance For Enterprise has acted swiftly to deliver the vital funds needed by business owners to overcome the challenges posed by Covid-19. As demand for our services have risen, we have strengthened our team of knowledgeable Investment Managers. Jeremy's appointment will help us to continue delivering the vital financial support needed by business owners at a time when they need it the most.
"Jeremy is a passionate, driven and motivated individual who brings with him a great wealth of experience and a genuine commitment to helping business owners succeed and he's a terrific addition to the team."
Launched in 1985 as one of the UK's first Enterprise Agencies and as a business loan fund, today Finance For Enterprise supports SME businesses throughout Yorkshire, the Humber, and the East Midlands, providing business loans up to £250,000.
Finance For Enterprise provides a vital lifeline to SMEs throughout the region who are unable to access finance from traditional lenders. It acts as a delivery partner for the British Business Bank's Coronavirus Small Business Interruption Loans Scheme (CBILS) and Start Up Loans UK.