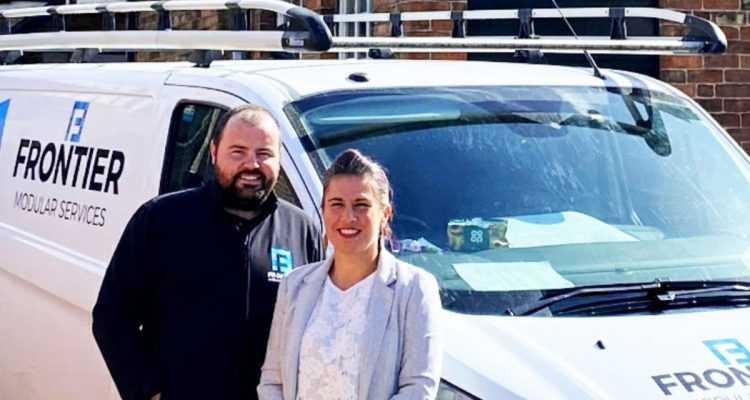 Owners of a Hornsea-based construction company which specialises in the installation of modular buildings are cooking up plans to nurture entrepreneurial talent in the Yorkshire coastal town, after securing a £65,000 CBILS-backed loan from Finance for Enterprise and NPIF – BEF & FFE Microfinance, which is part of the Northern Powerhouse Investment Fund.
The loan will provide owners of Frontier Modular Services, Richard Pooley and Lindsey Nicklin, with the vital financial support needed to transform a forgotten and unloved building into a new headquarters for the fast-growing business. The building will also become a new business hub within Hornsea.
Richard and Lindsey launched Frontier Modular services, which specialises in the installation and fit out of modular buildings, in 2017. It has since enjoyed significant year-on-year growth and works on behalf of a number of well-known manufacturers in the industry.
Over the past three years the company's workforce has grown to 20 site operatives, who work on a diverse range of installation projects, including schools, hospitals and immigration centres. Prior to the Covid-19 pandemic, the company was on course to achieve a seven-figure turnover.
After setting their sights on further growth, the duo began scouring the local property market to find suitable premises for their fast-growing business. Their dream property proved to be a former bake house. When the unique property went under the hammer, Lindsey and Richard immediately set about developing plans to transform the building into a new headquarters for their burgeoning business.
Plans for the opening of the hub in Spring were put on hold as a result of the Covid-19 pandemic and the firm needed funding to secure the future of the project.
After exploring different lending options, Lindsey approached Finance For Enterprise for help. Working with an experienced Investment Manager, the company was able to secure an investment of £65,000 in the form of a CBILS backed loan to upgrade the Old Bake House. The Finance For Enterprise investment comprised of funds from a combination of its own capital and from NPIF – BEF & FFE Microfinance, of which Finance For Enterprise acts as joint fund manager.
Prior to joining Frontier Modular, Lindsey had headed up the University of Hull's Enterprise Centre, where she used her entrepreneurial expertise to support start-up businesses. Drawing on her previous experience, she spotted an opportunity to support other new entrepreneurs by transforming surplus space within the three-storey building into a business hub to help new entrepreneurs to develop and explore their business ideas.
Since securing the CBILS funding, remedial works within the Old Bake House have started. The building's dilapidated electrics have been upgraded, new data connections installed, and the new headquarters and business hub is on course to open its doors for the first time in October.
In addition to supporting Richard in overseeing the day-to-day operations within Frontier Modular, Lindsey has also spent time pioneering a new recruitment business and outsourcing company, which will also be based in the Old Bake House.
Lindsey Nicklin, Director, Frontier Modular said:
"The Old Bake House offered everything we were looking for in a property. We felt it would provide the essential office space to support our growth plans, as well as helping others to take the first steps on their own business journey.
"I'm passionate about helping individuals to be successful in business. Yorkshire's coastal communities are often overlooked when it comes to helping people interested in running their own businesses.
"We recognised additional funding would be required to realise the potential of our new premises, and after exploring different options we approached Finance For Enterprise for help. We had originally planned to launch in the spring, but with delays to the project as a result of the Covid-19 pandemic, the loan has proved to invaluable, enabling us to continue to invest in our plans to upgrade the building.
"The support we've received from Finance For Enterprise will not only help us to improve on Frontier Modular's success to date, especially during the uncertain times caused by the current pandemic, but will enable us to support new entrepreneurs, which can only be a positive thing to the local economy.
"We knew when we purchased the building that some upgrading work would be required. We had approached a number of lenders for help. Finance For Enterprise replied quickly and I was very impressed by the support and guidance Jane provided during the application process."
Jane Cusse, Investment Manager, Finance For Enterprise said:
"Frontier Modular Services is a business which has enjoyed significant growth since its inception. Like many businesses, they were forced to reassess their plans, following the Covid-19 pandemic. The CBILS-backed loan has helped them to secure the vital cashflow needed to support their business.
"The Coronavirus Business Interruption Loan Scheme is a vital lifeline for many businesses which have been affected by the Covid-19 crisis and as a delivery partner to the scheme, we were able to help Frontier Modular take the vital steps needed to protect their business during an uncertain economic time."
Grant Peggie, Director at the British Business Bank said:
"Our Fund Managers have been working tirelessly throughout the pandemic to provide vital support to northern businesses that are facing financial difficulties. We are proud to work with Finance For Enterprise to help firms such as Frontier Modular Services which make a real difference to the regional economy. I would encourage any business which has been adversely impacted by the Covid-19 pandemic to get in touch with our fund managers and see what support is available in these difficult times."
Finance For Enterprise provides a range of tailored loans up to £250,000, aimed at supporting SMEs throughout Yorkshire and the North Midlands. The company is a delivery partner for the British Business Bank-backed Coronavirus Business Interruption Loan Scheme and acts as fund manager for the Northern Powerhouse Investment Fund and Start Up Loans.
The Northern Powerhouse Investment Fund project is supported financially by the European Union using funding from the European Regional Development Fund (ERDF) as part of the European Structural and Investment Funds Growth Programme 2014-2020 and the European Investment Bank.