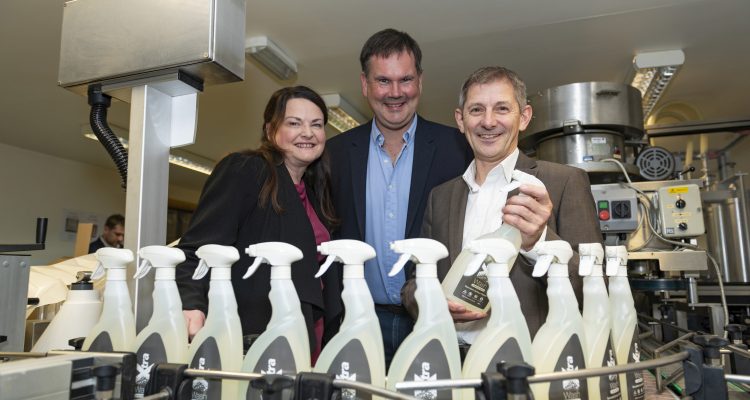 A Huddersfield-based manufacturing company is setting its sights on significant growth and expansion after calling on Finance For Enterprise to scale production of an innovative range of microbiological cleaning products, following the successful acquisition of one of its competitors.
Biobax produces a diverse range of environmentally friendly products including sustainably sourced paper straws, hand sanitisers and cutting-edge cleaning products, all of which are manufactured in-house from its Skelmanthorpe Technology Park headquarters.
Having successfully pioneered its own range of microbiological cleaning products, which are sold to the education, care and hospitality sectors, company founders Dominic Barnes and Kate Pawson began exploring ways of scaling the business. They spotted an opportunity to acquire Cheshire-based Aqua Air, which had devoted the past 20 years to bringing innovative cleaning products to the market.
Feeling there was a clear synergy between the work being delivered by Aqua Air and Biobax and with the company founder of Aqua Air, Barry Bladon, looking to find the right partner to take Aqua Air to the next level, Dominic and Kate felt the acquisition could help Biobax to enter into new markets, whilst at the same time increasing profitability within Aqua Air's product range by bringing manufacturing in-house.
However, the entrepreneurial duo also knew there was a major potential barrier: raising the vital funds needed. They discussed their ideas with Hentons Corporate Finance, who introduced Biobax to Finance For Enterprise.
Working with experienced business lending manager Jeremy Meadowcroft, Biobax successfully secured a £150,000 loan from Finance For Enterprise, delivered through the Recovery Loan Scheme.
With funding in place, Biobax was able to complete the acquisition, creating four new jobs in the business, and is now setting its sights on increasing turnover to £2 million within the next three years. However, with both Biobax and Aqua Air enjoying a long history of innovation, Dominic and Kate are also exploring new applications for its microbiological cleaning technology.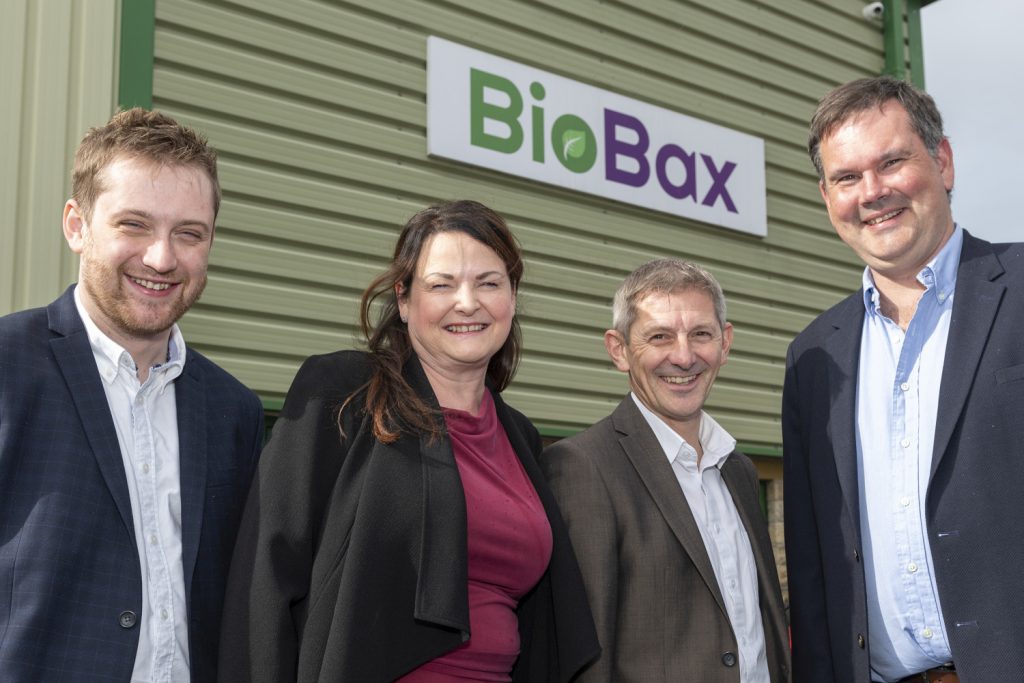 Dominic Barnes, Managing Director, Biobax, said:
"Microbiological cleaners harness friendly bacteria to break down organic matter quickly and efficiently. They offer a safe alternative to traditional cleaning products that can be used in high-risk environments such as schools and care homes. Barry has devoted much of his life to developing innovative cleaning solutions and bringing them to market. It's an ethos we share.
Acquiring Aqua Air is a golden opportunity for Biobax, one which will present new opportunities for both businesses, as well as safeguarding the manufacture of its products in the UK. The funds we received from Finance For Enterprise made this possible and as a result, we're able to concentrate on growing the business further in the future."
Harry Bushell, Corporate Finance Executive, Hentons Corporate Finance, said:
"We supported Kate and Dominic through the acquisition process of Aqua Air from negotiating the transaction, assisting with fundraising, through to legal completion. Biobax already offer a great selection of microbiological cleaning products and the acquisition of Aqua Air was a great strategic fit allowing them to complete the manufacture in-house, improving profitability and leading to overall growth of the combined business.
Following a competitive funding process, Finance For Enterprise presented Kate and Dominic with the best funding solution for the Company that would be able to fund and support the transaction now and have the appetite to provide additional support in the future.
Samantha Sellars Head of Legal at Hentons Corporate Finance said:
"We are delighted to have supported Dominic and Kate on their acquisition, as a team we thrive on delivering for our clients, especially when we are involved throughout the whole process, leveraging our combined corporate finance and legal expertise."
Jeremy Meadowcroft, Business Lending Manager, Finance For Enterprise, said:
"Biobax is a great example of a British manufacturing company that is challenging the industry norms and bringing some truly innovative products to market. Through the acquisition of Aqua Air, Biobax spotted the potential to not only increase their market share, but improve the manufacturing process by bringing production in house.
One of the biggest challenges facing many businesses is being able to access the financial support needed at the times when they are needed most. The Recovery Loan Scheme was specifically developed to help businesses impacted by the Covid-19 pandemic to adapt and respond to the challenges they faced, and I felt the company was well suited to benefit from the scheme. With funds in place, the deal was able to be concluded quickly, allowing Biobax to focus upon continuing to bring new, innovative products to market, which are all proudly being produced in Huddersfield."
Aqua Air Ltd was founded in 1994 by Barry Bladon and latterly co-owned with his son Simon. The company was responsible for pioneering the Xtra range of cleaning solutions to deliver bleach-free cleaning alternatives.
Biobax was founded by Dominic Barnes and Kate Pawson in 2019. Drawing on their long experience working in the commercial hygiene and industrial consumables sector, the duo have successfully helped to shape a growing market sector which replaces chemical based cleaning solutions with sustainable alternatives. Prior to launching Biobax, Dominic successfully pioneered Zybax, one of the UK's first microbiological cleaners and a product range that continues to be manufactured by Biobax.
Finance For Enterprise provides a range of tailored loans up to £250,000, aimed at supporting SMEs throughout Yorkshire and the North Midlands. The company acts as fund manager for the Northern Powerhouse Investment Fund and is an accredited delivery partner for the Recovery Loan Scheme and Start Up Loans UK.