A Yorkshire-based stairlift manufacturer, which specialises in producing bespoke designs for curved or complicated staircases, is targeting significant growth after securing £100,000 in loan funding from Finance For Enterprise and the Northern Powerhouse Investment Fund (NPIF).
Bespoke Stairlifts will use the loan funding to create four senior roles in the business, as well as enabling the Huddersfield-based business to invest in a new assembly line in order to meet demand for its unique product range.
In recent years, the company has enjoyed significant growth. Turnover has risen from £2.6m to £5.6m during the past two years. However, with 70% of its orders being secured from overseas customers, with a significant proportion based within Europe and South America, the company recognised the need to adapt its business model to overcome the challenges posed by successive international lockdowns, as well as changes to import and export regulations.
Faced with a challenging international trading environment, the company reached out to Finance For Enterprise to provide additional funds to help the business implement new measures to help it operate more effectively, as well as helping to ease cashflow pressures as a result of delays in the company's supply chain.
Working with experienced Investment Manager Jeremy Meadowcroft, the loan was jointly funded by Finance For Enterprise, and NPIF – BEF & FFE Microfinance, managed by FFE & BEF and part of the Northern Powerhouse Investment Fund, and secured within just two weeks.
With funding in place, Bespoke Stairlifts was able to increase capacity within its factory, as well as safeguarding ten manufacturing jobs within its 60 strong workforce as they hope to tap into a market that is predicted to grow by 5% each year, driven by an ageing population and a desire for elderly residents to continue living in their own homes.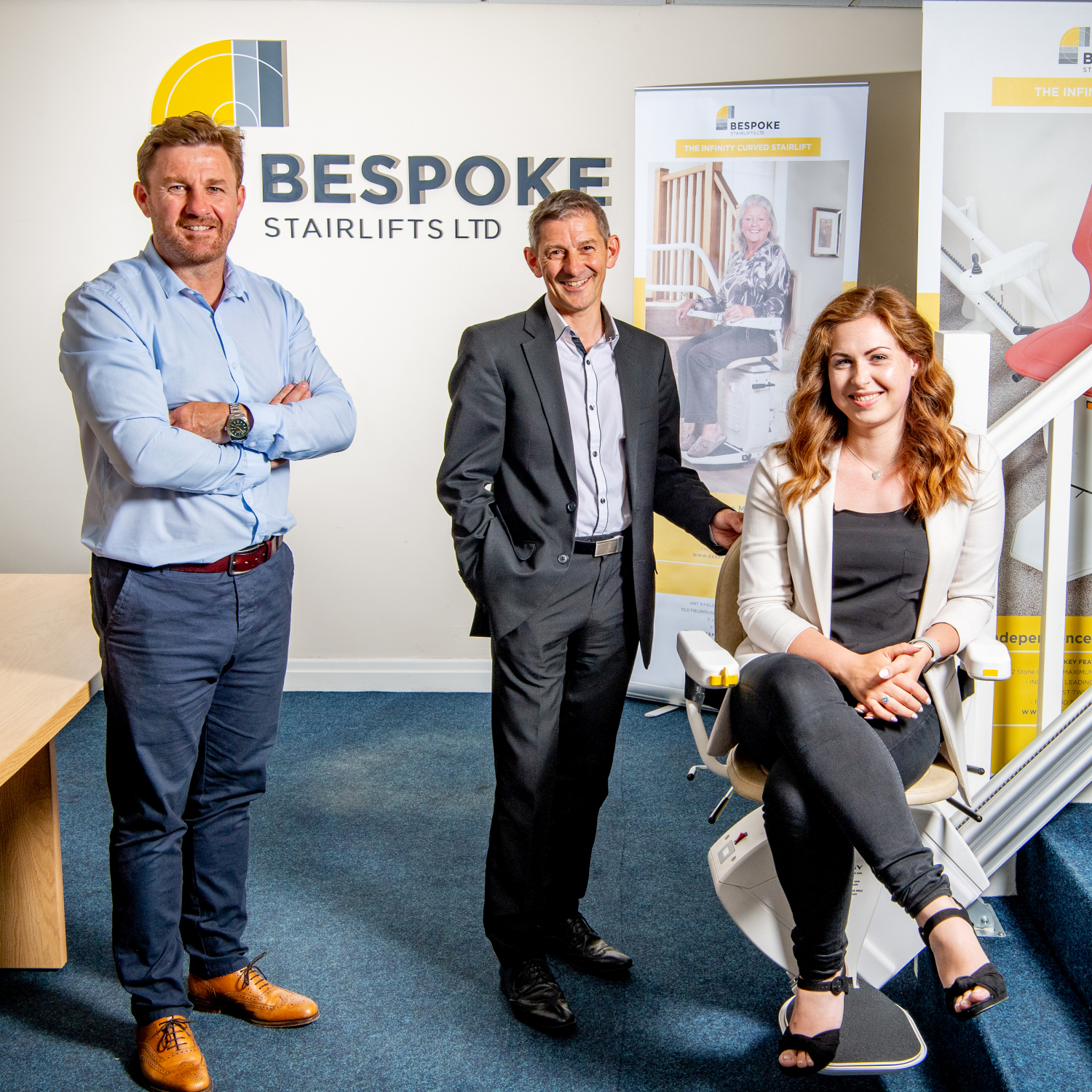 Gavin Finn, Managing Director, Bespoke Stairlifts said:
"In recent years, we've enjoyed significant growth in a number of international markets. However, successive lockdowns in countries around the world have affected our business considerably and placed significant pressure on our cashflow, as a result of delays in our supply chain.
"We recognised that it was vital for our business to take steps to adapt to the changing marketplace, enabling us to tap into the growing demand for our products, whilst restructuring our operations to help us operate more effectively.
"We knew some additional funding would be required, and after spending time researching our options, we reached out to Finance For Enterprise for advice. The support we received from Jeremy was terrific. He kept us updated throughout the loan application process, and I was amazed by just how quick and straightforward the application process was, which enabled us to act swiftly. As a direct result of the funds we secured, we're on track to enjoy one of our best year's trading to date, as well as helping us to lay the foundations for future growth."
Jeremy Meadowcroft, Investment Manager, Finance For Enterprise said:
"Like many businesses working in the manufacturing sector, Bespoke Stairlifts have experienced a challenging 2020. Delays in being able to source raw materials, as well as being forced to place international projects on hold, due to the impact of the coronavirus pandemic as well as continued uncertainty surrounding potential future lockdowns, meant they needed to reassess how the business operated.
"With some orders being placed on hold through no fault of their own, they began to re-assess their business and how it operated. The funds provided have not only helped them to successfully navigate their way through the challenges posed by Brexit and Covid-19, but also to ensure they had put the steps in place to take full advantage of a growing international marketplace."
Melanie Ellyard, British Business Bank said:
"Since its launch in 2017, NPIF's impact on businesses has been wide-ranging, providing funding to launch new products, employ new staff, enter new markets and acquire new facilities. We are pleased to support Bespoke Stairlifts as it takes a new step forward."
Bespoke Stairlifts was founded in 2004 by Gavin Finn and David Burns, who spotted a gap in the stair lift market to provide cost effective solutions to manufacture stairlifts suitable for curved or complicated staircases. Today, the company employs over 60 full-time members of staff from its Huddersfield headquarters and has built a network of more than 100 qualified engineers across the world.
Finance For Enterprise provides a range of tailored loans up to £250,000, aimed at supporting SMEs throughout Yorkshire and the North Midlands. The company acts as fund manager for the Northern Powerhouse Investment Fund and is an accredited delivery partner for the Recovery Loan Scheme and Start Up Loans UK.
The Northern Powerhouse Investment Fund project is supported financially by the European Union using funding from the European Regional Development Fund (ERDF) as part of the European Structural and Investment Funds Growth Programme 2014-2020 and the European Investment Bank.