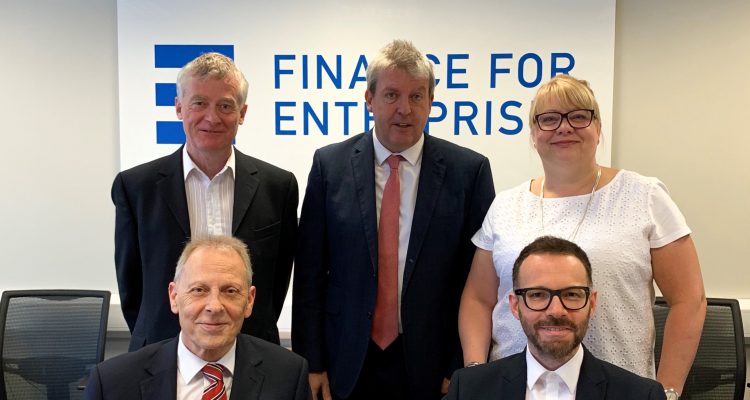 Finance For Enterprise has become the UK's first Responsible Finance business lender to secure investment from a new source of capital, enabling it to enhance support to SMEs based in South and East Yorkshire, Lincolnshire, Derbyshire and Nottinghamshire during the next three years.
£15 million of funding has been secured through match-lending provided by Big Society Capital and Europe's leading sustainable bank, Triodos – each of which will make £7.5 million available for SME business lending through Finance For Enterprise.
As a result of the investment, Finance For Enterprise has already pledged more than £3 million in new business loans, helping businesses across the region to invest in new equipment and machinery, fund growth plans by employing additional members of staff, as well as providing improved cashflow.
The capital secured by Finance For Enterprise was made available as a result of a collaboration between Big Society Capital who, working alongside Social Investment Scotland, created a £30 million fund aimed at helping the work of community-led business loan providers to support the growth of local economies throughout the UK. After securing an initial £7.5 million of lending through Big Society Capital, Finance For Enterprise worked closely with Triodos Bank UK to secure an additional £7.5 million in match funding.
This will be used alongside Finance For Enterprise's existing resources to enable more businesses which have been rejected by traditional high-street lenders to access business lending; it will work alongside a range of other tailored lending options which are managed by the not-for-profit organisation, including the Northern Powerhouse Investment Fund and the Start Up Loans programme.
Over the last five years alone, Finance For Enterprise has provided £37 million of loans; this has included £27 million to around 600 established businesses and £10 million to 550 new start businesses. This funding has helped in the creation of more than 1400 new jobs with a further 1800 being safeguarded, resulting in a net economic contribution to the region during the five-year period of more than £140 million.
Commenting on the successful completion of the new funding, Managing Director Arthur Foreman said: "SME businesses are the backbone of Britain's economy, yet many are unable to secure the vital funds needed to realise their growth ambitions. The funding we have secured will help us to make more money available to viable businesses, enabling barriers to growth to be overcome.
"We have been working with partners for several years to develop a model capable of securing the significant levels of investment necessary for us to grow our support to the many viable businesses which are unable to access mainstream finance and this deal means that we will be able to continue this vital work.
"The additional capital will help us to continue to support more SMEs within Yorkshire and the Humber and the North Midlands; it's a fantastic honour for Finance For Enterprise to become the first alternative lending provider in the UK to be successful in securing access to the funding available from both Big Society Capital and Triodos Bank UK."
Matt Boggan, relationship manager at Triodos Bank UK, added: "Making money work for positive social, environmental and cultural change is central to the bank's ethos. Key to this is providing finance to help start-ups and growing businesses fulfil their potential, as these enterprises really have the ability to transform a community.
"We're proud to be supporting Finance For Enterprise, alongside another likeminded organisation. Its aim to make finance more accessible and inclusive aligns closely with our own values, and we look forward to hearing more about the impact that these SMEs have in their locality."
Finally, Alastiar Davis, Chief Exeutive, Social Investment Scotland, (SIS) said:
"We are enjoying working with Finance For Enterprise, Big Society Capital and Triodos in bringing this fund to market and are looking forward to seeing the impact created by this investment".