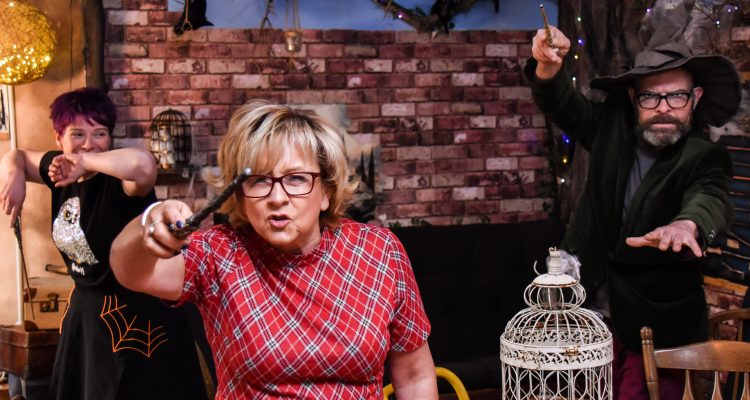 An entrepreneurial duo is hoping to bring a spark of magic to Sheffield in the form of a witch and wizard themed café after securing a vital cash boost from Finance For Enterprise.
Husband and wife Robert and Nicola Downham launched the Steel Cauldron, a wizard themed café and inn, after drawing on inspiration from a Harry Potter themed café they visited whilst on holiday last year and set about scouring the local property market to find the perfect premises for the new venture.
After a six month search, the entrepreneurial duo secured premises in Broomhill and set about putting their plans into action. Recognising the business needed to invest in equipment and stock, as well as undertaking an extensive refurbishment of the premises, the couple secured additional funding from the Doncaster-based alternative lending provider.
Working alongside experienced Investment Manager, Gillian Pickard, the entrepreneurial couple were able access the vital finance their business needed with help from a Start Up Loan. Within just two weeks their business plans had been approved and their application had been granted, enabling them to put their magical plans into action.
The café proved to be an instant hit and regularly attracts over a thousand visitors each week who take part in a range of fantasy themed activities including a magic school, board games as well as hosting regular quiz nights and live entertainment. Upstairs, the couple have invested in creating the Wizard's Rest Inn, a magical place to rest your head for the night.
Since opening their doors earlier this year, the Steel Cauldron has proved to be a popular attraction with families, students and fantasy lovers. Like many businesses in the leisure industry, the couple have been forced to adjust their business model following the introduction of Tier 3 lockdown measures.
Determined to provide a safe environment for families in social bubble, The Steel Cauldron has introduced a range of activities aimed at children, including birthday parties, wand making and family fun craft activities. In the evenings, the café is home to varied entertainment programme including live magic shows, music and storytelling, as well as serving a comprehensive range of food – some of which is served in its own Yorkshire pudding styled cauldrons!
Such has been the success of The Steel Cauldron that since the business opened its doors in July, the business has helped to create eighteen new full-time jobs in order to meet the high demand for its services and despite the current uncertainties facing businesses working in the leisure and hospitality sector, Robert believes the magical formula behind the business means The Steel Cauldron has a bright future ahead of it:
Robert Downham, Head Wizard and Co-owner of The Steel Cauldron said:
"We had originally intended to launch our business in March; however, we were forced to change our plans because of the national lockdown measures. We used the time to refine our business model and secure the funding needed to make it a reality.
"From my previous experience working in property and finance, I was under no illusions as to the challenges facing new businesses, particularly when it came to raising funding. I knew it would be difficult to raise finance from traditional high street lenders, but when a friend mentioned the specific support provided by Finance For Enterprise to help new businesses it gave us the confidence to believe in our business idea.
"From the outset, Gillian, our advisor, was extremely helpful and made the whole application process quick and straightforward. The two £12,500 loans were quickly granted and in our account within two weeks, which helped ease our worries about renovating the property, buying new equipment, and having a healthy cash flow.
"Since opening, we have been working 16-17 hour shifts and we've hosted around 300 birthday parties! When the new restrictions were introduced in October, we knew we needed to adapt our business model again, to be able to operate safely. We recognised that many talented musicians are struggling at the moment and so we have introduced a number of new evenings to help those affected by Tier 3 lockdown.
"The support provided by Finance For Enterprise has been vital to our success. Without it, it would have placed immense pressure on our cashflow and required us to scale down our plans. Instead, we've succeeded in creating a venue that appeals to all ages, from toddlers to adults. Although it's been an incredibly challenging environment, the business had continued to perform above our expectations, and we're already hoping to expand our business by opening new sites in the future."
Gillian Pickard, Investment Manager at Finance For Enterprise, said:
"Starting a new business can be challenging for even the most seasoned entrepreneur and in a business environment where the leisure and hospitality sectors have been particularly hard hit by lockdown measures introduced, Robert and Nicola have defied all the odds to build a business which is not only responding to the challenges posed, but one that's thriving.
"Many small businesses struggle to survive because of cashflow, something which Robert was acutely aware of from his finance background. Their application was supported by a robust business plan and as a result, we were able to put the finance in place quickly, enabling them to undertake the vital refurbishment needed.
"I've been really impressed by their efforts to date. The positive reviews their business has received, and the sheer number of jobs they have been able to create in such a short period of time is a testament to their hard work and dedication".
Finance for Enterprise is a delivery partner of Start Up Loans, administered by the British Business Bank, which is designed to help new entrepreneurs with limited trading history with the ability to secure finance, allowing entrepreneurs like Robert and Nicola, who in other circumstances would be unable to secure lending.
Since The Start-Up Loans Company was launched in 2012, it has helped more than 75,000 entrepreneurs to realise their business ambitions. In Yorkshire & The Humber, The Start-
Up Loans Company has provided nearly £55 million to over 6,300 new businesses.
Finance For Enterprise provides a range of tailored loans, aimed at helping SMEs throughout the Sheffield City Region and North East Lincolnshire. The company acts as a fund manager for the Northern Powerhouse Investment Fund and Start Up Loans scheme and provides business loans up to £250,000.