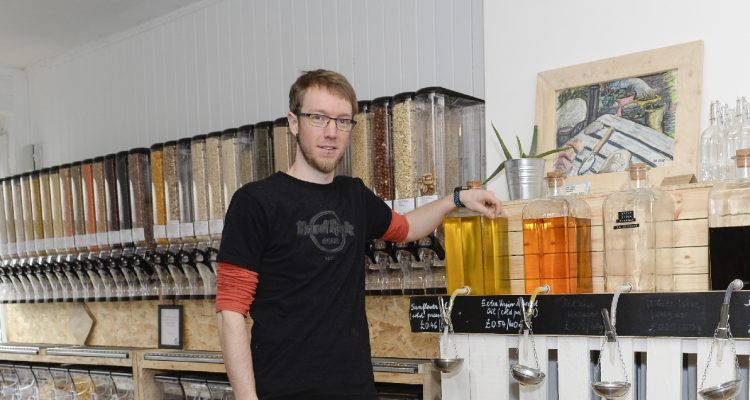 An aspiring entrepreneur who turned his back on a lucrative career in software development in a bid to do his bit for the environment has embarked upon a one man mission to transform the way we purchase everyday goods by banning plastic packaging from his eco-friendly shop.
Mathew Reynolds launched The Bare Alternative in November 2018 after securing help from the Sheffield City Region Launchpad programme and alternative finance provider Finance For Enterprise. Unlike many shops which rely upon pre-packaged goods, almost all of the products he sells are sold in loose quantities, with customers expected to bring their own containers.
Today, his zero waste shop sells more than 200 different products ranging from exotic teas and coffees to everyday household goods including washing powder, toiletries, cleaning products and even plastic free toothbrushes.
Mathew's journey from software developer to green shopkeeper began after he celebrated his 30th birthday. Despite progressing well in his chosen career, he felt unfulfilled. After learning about the plastic mountains plaguing the world's rivers and oceans, the environmentally conscious entrepreneur began exploring ways he could cut down on his own waste output and quickly realised that he wasn't alone.
After deciding to embark on a complete career change, Mathew contacted the ERDF funded Sheffield City Region Launchpad programme and began formulating his own ideas to help others lead a waste-free lifestyle. Working alongside business advisor Natalie Fletcher, Mathew began testing his ideas enabling him to develop a sustainable business model.
Mathew identified one of the greatest plastic pollutants came from single use plastic packaging – he felt that if he could eliminate plastic packaging altogether, it could drastically reduce the amount of waste being produced. Feeling confident his idea could succeed, Mathew took part in a number of workshops, helping him to develop the vital skills needed to make his zero waste shop a success.
The new entrepreneur began sourcing stock and even spotted the perfect location for his shop in Sheffield's bohemian Abbeydale Road, leaving just final piece in the puzzle to overcome – finance.
With limited funds and no previous trading history, Mathew knew it would be difficult to source finance from high street banks, but his Launchpad advisor introduced him to alternative lending provider Finance For Enterprise, who helped the new entrepreneur to secure a £14,000 business loan, which he invested in stock and equipment.
Since the doors of The Bare Alternative opened for business, Mathew has built up a loyal customer base and keen not to rest on his laurels, he has also launched a number of initiatives aimed at helping local residents to cut down on their plastic waste. He also uses his shop as a drop off point for people to deal with typically hard to deal with waste such as crisp packets, toothpaste tubes and biscuit packaging.
He has continued to work closely with the Launchpad team, finding a new audience for his business via social media and with plans to expand his business further, including exploring the possibility of developing an online retail offering, Mathew is planning to embark upon a crowdfunding initiative to secure additional funds from fellow environmentally conscious individuals to grow the business further.
Mathew Reynolds, founder, The Bare Alternative said:
"When I reached by 30th Birthday, I decided to take stock of my career and I realised that if I wanted to change, it was either now or never. I liked the idea of working for myself, but I wasn't sure what was involved with running a business and I had very little idea of what shape or form my business would take.
"I decided to contact the Launchpad programme through Business Sheffield and the support I've received helped to transform my pipe dream into a reality. There's a lot to learn when starting a new business and the information I've received from the workshops I've attended, coupled with the support I've received from my business advisor has been invaluable. For example, I didn't realise there were other ways of funding businesses beyond grants and high street bank loans – neither of which were suitable for my business.
"The support I've received has given me the confidence to believe in my business idea and over the past six months, the performance of the business has exceeded all of my expectations and I'm now looking towards employing my first members of staff, exploring the possibility of online sales and securing additional finance through crowdfunding – all that has been possible as a result of the help and support I've received from the Launchpad team."
Gillian Pickard, Investment Manager, Finance For Enterprise said:
"Most high street banks are reluctant to lend to businesses without a proven trading history which, for many new entrepreneurs can make accessing finance incredibly difficult. As a Start Up Loans delivery partner, we were able to step in and help Mathew secure the funds his business needed to make his shop a reality. His commitment and determination to challenge the way many items of food are sold has seen the business enjoy significant growth and I'm confident the company has a bright future ahead of it.
Natalie Fletcher, Business Adviser, Sheffield City Region Launchpad programme said:
"Mathew has come a very long way since he first engaged with the Launchpad programme. The support we provide is aimed at helping new entrepreneurs to understand what's involved with running a successful business as well as preparing for life as an entrepreneur.
"The Launchpad programme was created to not only help guide new entrepreneurs through their all-important first two years of trading, but also to help determine whether a business idea was indeed viable in the first instance. In Mathew's case this meant we were able to offer support and advice when it came to testing the viability of the business concept before he started trading. We have continued to work closely with Mathew since the he opened the doors of his shop, enabling him to develop new skills to support his business growth."