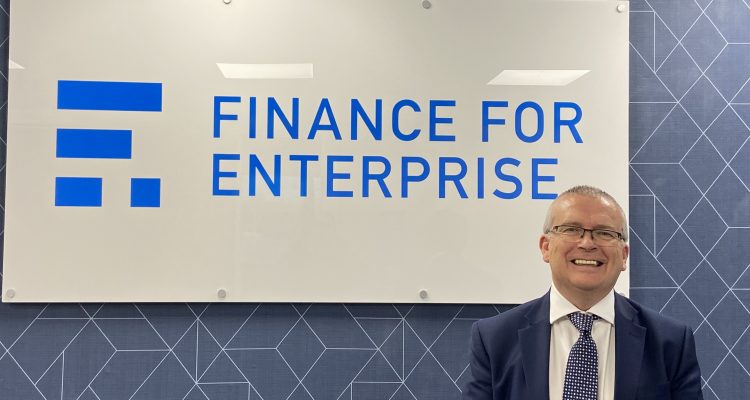 Investment Manager John Barnes joined the Finance For Enterprise team in 2020 after a long career in the finance sector. John is now hard at work helping business owners and new entrepreneurs to navigate their way through the Covid-19 pandemic.
What is your role at Finance For Enterprise?
My role as an Investment Manager involves helping SMEs to reach their full potential by helping them access the financial support needed to build and grow. I help business owners to understand the different lending options available to them, as well as guiding them through the application process.
What is the most rewarding part of your job?
The best bit about my job is helping business owners to succeed! Some of the businesses I have supported have been unsuccessful when applying for borrowing through traditional high street lenders, which can sometimes leave company owners facing very difficult decisions.
At Finance For Enterprise, we are often able to help those businesses, and this can make a real difference to their plans. One of the most rewarding parts of my job is being able to play my part in helping business owners to transform an idea in their business plan into a reality by helping them secure the funds needed.
Can you tell us about something you are particularly proud of?
It may not sound terribly exciting, but when I worked in London, I wanted to develop a way in which risk control could be formalised within the branch I worked. This meant thinking about how we considered different types of lending applications and the steps put in place to deliver a good service for our customers, but also protect the interests of the bank.  The manual I developed was adopted by all branches of the London region.
What was your favourite subject at school?
I enjoyed maths and languages, and they have both proved to be really useful throughout my adult life.
Maths skills are important for so many jobs, whereas learning an additional language has been worth its weight in gold during foreign holidays. I was taught French and German, although tended to enjoy German more; when I visited Germany for the first time it felt great to be able to chat with the locals!
… And your worst?
Chemistry! I found the formulas and symbols were always confusing and I never got into it.
What did you do before joining Finance For Enterprise?
I began my career at Barclays in 1980. I was living in London at the time and really enjoyed spending time in the West End. As my career progressed and I moved from branch to branch, it often felt like I was playing a life-sized game of Monopoly.
It was during my time in London that I met my wife, and after continuing my banking career in the capital for a number of years, we relocated to the county of Yorkshire, where we settled down to start a family.
All-in-all I spent over 40 years working in banking, and when an opportunity arose to join the Finance For Enterprise team, I saw it as a new challenge; one in which I could use the skills I've developed during my career to help SMEs and new entrepreneurs to succeed.
Do you have any hobbies?
I like to keep fit and love watching football with my son. We are both Sunderland season ticket holders and cannot wait to get back to the Stadium of Light when things return to normal. I also like to unleash my inner rocker and visit my fair share of concerts, sometimes up to 40 a year! I've really missed live music during lockdown, but hopefully things will reopen enough for my family and I to watch The Killers later this year.
Tea or coffee?
I drink both, but I think tea edges it. Before the coffee lovers berate me, I love a cappuccino in the mornings.
Do you have any guilty pleasures?
I have an unrelenting sweet tooth. When I am buying sweets for my children, I often use that as the perfect excuse to get my own sugar fix!
What has been your career highlight to date?
I've always prided myself in delivering good levels of customer service, and during a previous role, I regularly achieved an 'A' rating when we were scored by third party assessors and secret shoppers. We held the top rating for three consecutive years between 2017-2020.
What advice would you give to someone who is considering a business loan?
Know your numbers! I have helped many businesses and individuals during my career, but it has sometimes surprised me that when approaching a lender some don't have a clear idea about the amount of money needed, what they plan to use it for and perhaps most importantly of all, how the money will be repaid.
When thinking about applying for a business loan, most lenders assess applications based upon affordability. This is particularly important for new entrepreneurs who are looking to raise funds to launch a new business. Go over your personal and business finances with a fine-tooth comb and give special consideration to your personal survival budget – the minimum amount of money needed to maintain your lifestyle.
What do you think makes Finance For Enterprise different to other lenders?
I think the one thing that sets Finance For Enterprise apart from others is the personal approach taken when making a lending decision. As Investment Managers we spend time getting to  know the businesses looking for financial support, and this can often help to give a better insight when it comes to understanding the impact of a lending decision and how it will be used to help the business.
This can often mean we are able to support a lending application, even though a business has been unable to secure mainstream financial backing.
Loan applications are considered on a case-by-case basis, which often allows Investment Managers to understand the impact on the local and regional economy. For example, when a business creates jobs, it's not just the business that benefits,  this can also help to build a stronger local and regional economy.