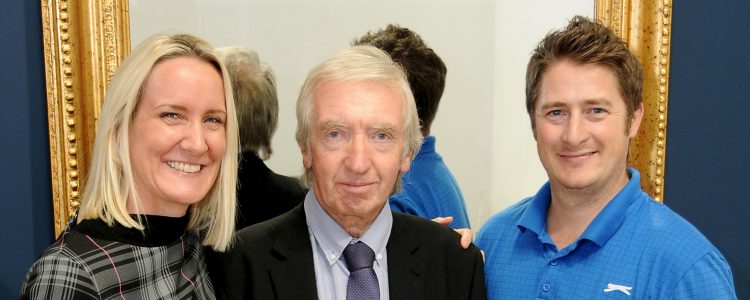 A family run business which counts a famous English singer and a reality show judge amongst their clientele, is looking forward to a gleaming future after securing business investments worth over £30,000 with the help of a local lender.
Dinnington-based JS Mirrors has secured investment from alternative funding specialist Finance For Enterprise which will be used to help the business invest in its customer service offering, creating new roles within the business as it sets its sights on future growth.
Today, JS Mirrors employs seven members of staff and since the business was launched in 2005 has established itself as one of the UK's largest mirror specialists in the UK, which are sold exclusively online. The company was founded by Stuart Morgan after he received a sum of money on his father's retirement. Stuart, along with his siblings, were given £500 on condition they grew, rather than spent the money.
With an idea in mind of how he wanted to use and grow his small investment, Stuart attended a furniture show and chose the one thing every home and business to name a few, needs: mirrors. Stuart felt he had spotted a niche in the competitive homeware market, particularly as few businesses sold mirrors online due to the weight of the items and technical difficulties in transporting them.
Armed with a pallet of mirrors, Stuart, set up an eBay shop from the comfort of his bedroom whilst also holding a full-time job and quickly discovered his products were in high demand. However, his dreams of a lucrative side-line project were soon shattered when problems in transporting the mirrors resulted in every one arriving at their destination either broken or damaged.
Undeterred from the apparent flaw in his concept, Stuart worked tirelessly to perfect new packaging which was capable of delivering the mirrors safely. With new packaging in place and no sign of orders slowing down, Stuart decided to leave the security of his full-time job and invest further time and effort in building his business.
As the business began to grow, Stuart began developing additional business ventures. Today he operates four dedicated e-businesses, helping homeowners to source chandeliers, home furnishings and mirrors from the comfort of their own home.
Within a relatively short period of time, sales on Stuart's product-led websites began to grow and he began to realise that in order to meet growing demand he would need to source larger premises which were capable of storing his growing product ranges, as well as providing the vital space needed for his growing workforce to handle the increasing number of sales being generated by the business.
However, there was one obstacle; finance. Unable to secure lending from a traditional high street bank, Stuart turned to Doncaster-based alternative funding provider, Finance For Enterprise for help.
Earlier this year, Stuart and his co-director Joanna Morgan called upon the help of Finance For Enterprise, enabling him to invest in a new technology infrastructure to improve the efficiency of the business.
It is the second time the husband and wife team have called upon help from Finance For Enterprise, originally contacting the alternative lending provider in 2011 to help fund new premises and purchase stock.
Since relocating the business, JS Mirrors has enjoyed a significant period of growth. Staff numbers have risen from just the husband and wife team to seven, and following the additional investment, Stuart and Joanna are hoping to create new customer service roles within the business.
Today, JS Mirrors is bucking the trend of online homeware businesses. Stuart regularly travels the world to ensure only up-to-date styles at the best prices are sourced for their wide range of clients; from members of the public, business-to-business establishments such as hotels, salons and restaurants, and even the occasional celebrity! The company has received orders from professional footballers, actors and both Strictly Come Dancing judge Craig Revel-Horwood and Liam Gallagher have both purchased unique creations for their homes!
Joanna Morgan, Co-Director, JS Mirrors said:
"Investing in staff is a big commitment for any business and we contacted Finance For Enterprise to help our business receive a cash injection as we entered into a new phase of business growth and development.
"Like many businesses, we had a proven business model and good trading history, so it came as quite a surprise when our high street lender told us that we weren't eligible for lending. After spending some time researching our options, we contacted Finance For Enterprise, who helped us to secure the vital capital our business needed.
"The support we have received from Finance For Enterprise has proved to be invaluable to our business journey. They made the application process quick, easy and straightforward and as a result we have been able to create new jobs within the business as well as invest in new technology to prepare our business for further growth.
Alan Scott, Investment manager, Finance For Enterprise said:
"Many business owners are often surprised when they visit a traditional high street lender and are unable to secure the lending they need. In Joanna and Stuart's case, securing a business loan was vital to their future growth plans, ensuring they could implement the systems and procedures to improve efficiency within the company as well as enabling them to create new jobs within the local economy.
"I have worked with JS Mirrors for a number of years and they have enjoyed a significant period of growth during that time. When Joanna and Stuart approached me earlier in the year to discuss their further growth plans, I worked with them to identify a loan package which was capable of meeting their needs. I examined a number of different options and was able to help them access the right form of financial help which was capable of meeting their needs."
Finance For Enterprise is a registered lender under the Enterprise Finance Guarantee Scheme. It is responsible for managing a business loan fund which has been supporting new start, early stage and growing businesses for more than 30 years.
Today, the company acts as a joint fund manager with the Business Enterprise Fund for the Northern Powerhouse Investment Fund. Finance For Enterprise helps businesses across South Yorkshire, the North Midlands, Lincolnshire and most recently Hull and The Humber to achieve their growth ambitions. Financial support is tailored to meet the unique needs of each entrepreneur and business owner, helping them to improve liquidity, support growth or purchase assets. Loans worth up to £150,000 are available and can be accessed by businesses in all sectors.
Finance For Enterprise also acts as a delivery partner across the Sheffield City Region for Start Up Loans, a Government backed initiative aimed at supporting individuals keen to explore self-employment. Tailored support is available to pre-start and newly formed businesses up to 24 months old.
Business Enterprise Fund is authorised and regulated by the Financial Conduct Authority (FRN: 726237)
Donbac Limited t/a Finance For Enterprise is authorised and regulated by the Financial Conduct Authority (FRN 718612). Information Commissioner Office Registered (FRN: Z153621X)