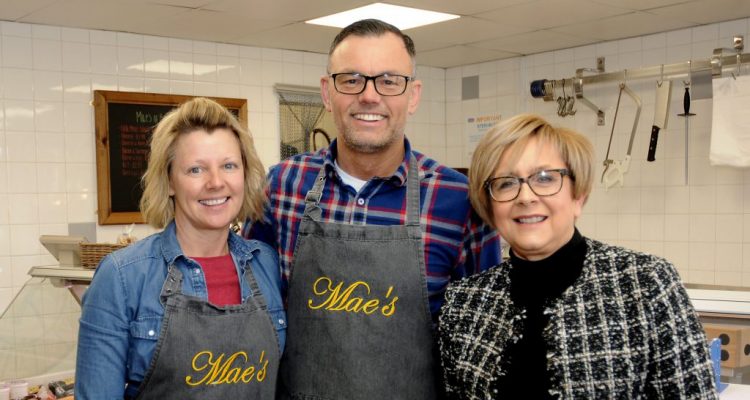 A family run butchers, owned by husband a wife team Richard and Paula Lambert, are slicing an entrepreneurial piece of the food market pie for themselves after securing a business loan worth £30,000 from alternative lending provider Finance For Enterprise.
Richard and Paula at Barnby Dun-based Mae's Butcher's Shop, secured financial backing in order to invest in the equipment required to produce, cook and display their ever increasing range of produce, as well as enabling the husband and wife team to recruit its first members of staff.
After completing his studies in Butchery back in his teens, Richard went on to carve out a successful career at a traditional butchers shop in Doncaster's old Food Market, before making the transition to work in a supermarket butchers, which he managed for 20 years.
When the previous village butchers shop, which had traded in the Doncaster village for more than a century closed last year, Richard and Paula saw it as an opportunity to realise their dream of running their own butchery business and after securing premises, they knew only one thing stood in their way, financing the business.
Feeling confident they had the skills and expertise to make their ideas a success, Richard and Paula approached a high-street lender hoping that their experience and knowhow would impress and secure the funds their business needed, however, their hopes were swiftly dashed when the bank was unable to fund the new business. Undeterred, the duo approached Finance For Enterprise to see if the business idea really could bring home the bacon.
Working with an experienced Investment Manager, Richard and Paula were able to access the vital funds needed to realise their ambitions, securing funding from Finance For Enterprise and Start Up Loans UK.
Since embarking on their entrepreneurial journey, they have successfully opened the doors on their new butchery business and have successfully added three new employees to their workforce – who found themselves facing redundancy when the former butchers shop closed its doors.
Richard's range of innovative recipes are already proving to be a hit with his growing number of regulars. His unusual recipe for a marmite sausage roll, intended to be a one-off, proved to be so popular that he has added it to his core range.
Richard Lambert, Owner of Mae's Butchers Shop said:
"Having worked in butchery all my life, working for other people and managing others for twenty years, my wife and I saw the perfect opportunity to start our own butchers shop, so we didn't waste any time.
"After being turned down by a high street bank we were initially concerned that we wouldn't be able to access the finance we needed to purchase and upgrade the equipment we required to get started. Thankfully they recommended the services of Gillian Pickard at Finance For Enterprise, so we gave them a call and got the ball rolling.
"We met with Gillian, presented our business plan, and explained how we would adapt practices from the previous butchers that had occupied the property for over 100 years. From that initial meeting we were granted two £15,000 loans within a month.
"Since that initial investment we have been able to use that finance to purchase mincers, ovens, and other vital equipment to produce the quality products that our customers want. Our more traditional clientele were so happy that a butchers was back in the village, but we also wanted to attract new customers by accommodating for the new tastes and eating habits of the younger locals.
"Finance For Enterprise has been very helpful throughout the whole process. Gillian, our adviser kept us up to date and had fantastic business knowledge and even had a great understanding of the local area."
Gillian Pickard, Investment Manager at Finance For Enterprise, said:
"Richard and Paula approached Finance For Enterprise with a fantastic business plan, a lot of relevant experience, and the enthusiasm I see in all entrepreneurs wanting to make their own way. Although the previous butchers in the location had to close down, we were confident that with their experience, adaptation ideas, and the right business loan they would be able to succeed.
"Since receiving the £30,000 loan, Richard and Paula have been able to invest in the equipment they needed to start trading and begin building a strong customer base in the area, and we would like to wish them every success with their new business venture."
Finance For Enterprise provides a range of tailored loans, aimed at helping SMEs throughout the Sheffield City Region and North East Lincolnshire. The company acts as a fund manager for the Northern Powerhouse Investment Fund and The Start Up Loans Company and provides business loans up to £250,000.