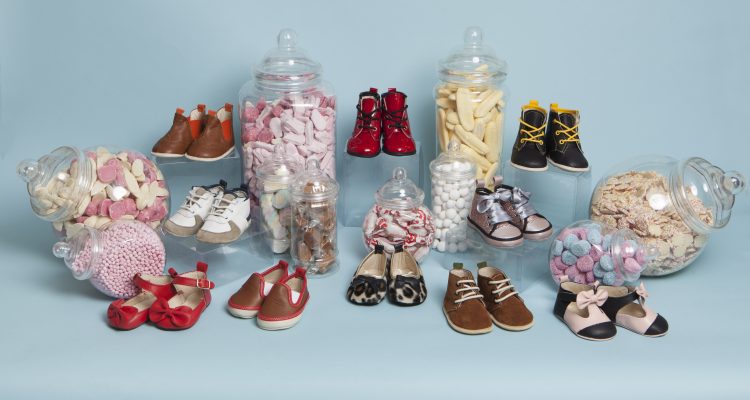 Little Lulu's, Designed by Catriona Alfaham, is an eco-friendly brand of luxury leather baby shoes.
Handmade by a master craftsman in Italy in the finest soft Italian nappa (lamb/kid skin). The 'pram shoes' or 'pre-walkers' are aimed at babies aged up to 18 months.
With a love of shoes, Catriona knew from an early age she wanted to study shoe design. She qualified in Footwear and Accessories Design at Cordwainers College – London College of Fashion. She now has 11 years' experience working in the fashion industry, specifically handbags, and specialising in shoes later on in her career. Her work has taken her all around the world and where she worked in Hong Kong for a number of years designing faux leather high fashion handbags.
Now settled in Sheffield, Catriona's passion for shoes was reignited after she became a mother herself and started shopping for her little girl Layla. She started Little Lulu's to suit her lifestyle and the business quickly progressed from there. Having created her designs Catriona travelled to Italy and sought out a master craftsman to start production. She was recently recognised for her talents and won the Rising Star Award at Bubble London – the UK's leading children's trade show. She fought off stiff completion and was awarded the title for her exquisite designs and clean, playful branding that complimented her designs beautifully.
Catriona applied to Finance For Enterprise for a Start Up Loan to get her Little Lulu's business off the ground and has been amazed at how much support the organisation has given her. "Gaining the loan gave me so much more than just the finances I needed to start the business," she said. "It has been an expensive process and I couldn't have done it without this financial support. I also gained valuable mentoring from some super advisors. This helped me write my business plan and organise my ideas. It also boosted my confidence because others believed that this was a viable business too. I continue to get support and guidance through Finance For Enterprise, which I am very grateful for."