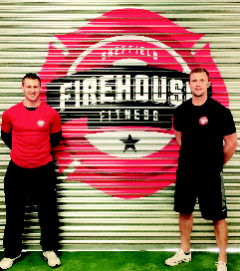 Finance For Enterprise's 100th Start Up Loan client,

Firehouse Fitness

, was established by Robert McGuigan and Dennis Roebuck; both serving firefighters for South Yorkshire Fire Service.
Starting from a local rugby field and with limited equipment, the first Firehouse Fitness session received a great response. Increasing popularity on a week to week basis, Robert and Dennis agreed a more permanent base was needed to develop the business further.
Firehouse Fitness creates a unique functional fitness training centre for individuals who have a passion for health, fitness, and well-being. It offers both personal and group High-Intensity Training (HIT) sessions with an added firefighter twist.
Both highly credible individuals, Robert has 12 years' experience in the industry, and has studied Sport and Exercise, obtained an honours degree and went on to achieve a diploma in Personal Training.
Dennis has 13 years as an operational Firefighter and four years' experience of working in the fitness industry as a Gym Instructor and Personal Trainer. Dennis has diplomas in Outdoor Training, Nutrition and Sports Conditioning. He is also a qualified athletics coach with experience of working within youth sports across South Yorkshire.
Speaking about the Start Up Loan obtained via Finance For Enterprise, Robert said: "The loan will transform what we are able to offer. We have already established a really strong brand by using the fire service as our unique USP. The funding will enable us to grow the brand further, whether that be through franchising or opening up additional facilities. In terms of immediate impact, the money has enabled us to lease premises and obtain equipment to offer a more traditional apparatus based training in addition to our core focus.
Referring to the process of obtaining the funding Robert added: "It was really straightforward. Our advisor, Mike Gregg, was fantastic. He was really supportive and always there for us whenever we needed any advice."