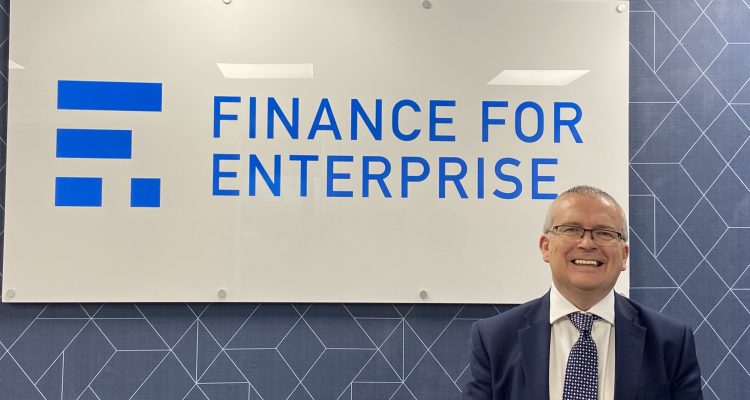 Finance For Enterprise has strengthened its team of lending specialists after appointing experienced banker John Barnes to its growing team of Investment Managers.
The appointment forms part of the Doncaster-based lending provider's future growth plans as it helps businesses across Yorkshire and the Humber to access the vital loan funding to navigate their way through the Covid-19 pandemic.
John joins the Finance For Enterprise team having spent the last five years of his career working as a Business Relationship Director with Santander. During his time with the bank, John oversaw Santander's commercial banking offering within South Yorkshire and North Derbyshire, helping businesses to access financial support and advice on their doorstep. John was an integral member of a team of 20 commercial banking specialists which supported a diverse range of businesses from new entrepreneurs to established, growing businesses in the region, John was responsible for overseeing a number of significant changes designed to improve levels of support and access to banking services for SMEs.
In his new role as an Investment Manager at Finance For Enterprise, John will draw on his 40 years' banking experience to help businesses throughout the region to access a range of tailored lending packages designed to help SMEs prosper.
Finance For Enterprise provides a vital lifeline to SMEs throughout the region who are unable to access finance from traditional lenders. It acts as a delivery partner for the British Business Bank's Coronavirus Small Business Interruption Loans Scheme (CBILS) and Start Up Loans UK.
Since the beginning of the Covid-19 pandemic, the funds provided by Finance For Enterprise have helped SMEs to safeguard over 1200 jobs. Since its inception, Finance For Enterprise has helped businesses to access in excess of £55 million in loan funding, which is used to help build and strengthen the local and regional economy.
John Barnes, Investment Manager at Finance For Enterprise said:
"I've always enjoyed helping business owners secure the funds needed to realise their growth plans  and having devoted much of my career to working in the banking sector, I was ready to embark on a new fresh challenge. I'm looking forward to returning to playing a much more hands on role when it comes to supporting businesses in the local community.
"Banks are often unable to support those businesses who need to access financial support most due to stringent lending criteria. In many ways, joining Finance For Enterprise is a welcome return to traditional banking values, where decisions are determined based upon knowledge of the business and creating an environment which will enable them to succeed."
Andrew Austwick, Managing Director, Finance For Enterprise said:
"Since the beginning of the national lockdown in March, our investment managers have gone above and beyond the call of duty to help SMEs to access the vital funds needed. John's appointment will help more businesses to tap into his wealth of expertise and knowledge from his many years of service to the banking industry and secure the vital funds needed during what has been an unprecedented year.
"Our business has always focussed on providing one-to-one support and I am confident he will be a terrific asset to Finance For Enterprise as we continue our work to help businesses navigate their way through the challenges posed by Covid-19 and an uncertain economic climate. John's appointment will help us to continue our work, adding to the 1200 jobs we have already helped to safeguard in the local economy".
Launched in 1985 as one of the UK's first Enterprise Agencies and as a business loan fund, today Finance For Enterprise supports SME businesses throughout Yorkshire, the Humber, and the East Midlands, providing business loans up to £250,000.