Removing barriers to business growth
In the twelve months to 31st March 2020, Finance For Enterprise invested more than £10.6 million in local businesses, adding over £55.7 million of value to the region's economy.
Supporting all kinds of enterprises, from innovative start-ups to SMEs planning for growth, the net result of the funds we have provided has seen an average of £4.80 generated in the economy for every pound we have invested in new start businesses and £5.40 for each pound loaned to established SMEs.
Our recently published social impact report, which assesses the broader societal benefits generated as a result of the loans we have provided, has contributed to the safeguarding of 540 jobs, as well as creating an additional 525 new roles. At the same time, through our work as a delivery partner with Start Up Loans, we have helped 153 new entrepreneurs to secure the funds needed to embark upon their own business journey.
Finance For Enterprise is a responsible and ethical lender committed to supporting businesses which struggle to source capital from traditional high street lenders. This has resulted in more than £200 million of value added to the regional economy in the last five years as a consequence of almost £47 million of loans we have made to businesses during that time.
To read our impact report click here: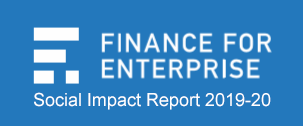 To find out more about how Finance For Enterprise can help your business call: 0333 014 3455 or visit: https://finance-for-enterprise.co.uk
Andrew Austwick, Managing Director, Finance For Enterprise