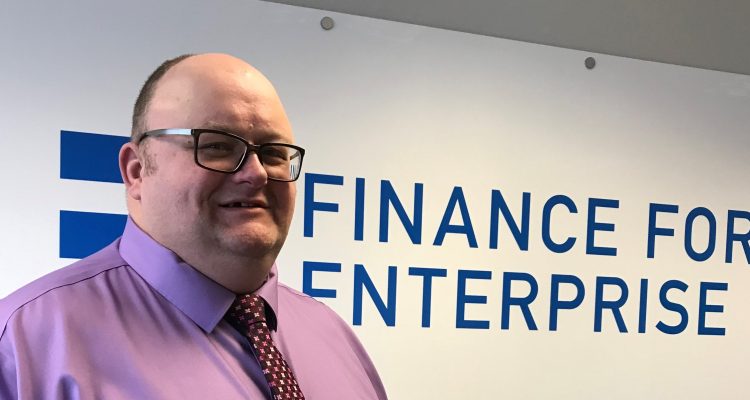 Investment Manager Dave joined Finance For Enterprise in 2019 after returning to the finance industry following a career break to care for his wife. Today, the experienced former banker helps businesses throughout the Sheffield City Region to access a wide range of alternative lending options to support their growth plans.
As a teenager, Dave dreamed of joining the police or travelling the world with Royal Navy, however, when a career in the banking industry beckoned, he spent the next 23 years rising through the ranks at Barclays Bank in London, South Yorkshire and North East Lincolnshire.
What is your role at Finance For Enterprise?
As an investment manager, my role is to help growing SME businesses throughout South Yorkshire and North East Lincolnshire to unlock potential barriers to growth, by helping them to secure business lending.
The companies I support have been typically unable to secure borrowing from traditional high street lenders. For some, this may be due to a limited trading history, for others it can be because their application is considered unsuitable by traditional lenders such as banks.
Wherever possible I try and help the business to secure the lending they need to realise their growth ambitions.
What's the most rewarding part of your job?
One of the best parts about my job is being able to make a genuine difference to the businesses we are able to support. Although I'm relatively new to the Finance For Enterprise team, the company can often step in and help SME businesses when traditional lenders can't.
In some cases, this can be the difference between a business being able to bring forward growth and expansion plans or being forced to place them on hold. I think it's incredibly rewarding that as a result of the work we undertake, many businesses are able to go on and create new jobs, and even secure additional orders.
What did you do before joining Finance For Enterprise?
I've worked in the banking sector since I left school, but for the past five years I've worked as a full-time carer, looking after my wife who has been quite poorly. It has been an honour and privilege helping her return to reasonable health.
Joining Finance For Enterprise after my career break has been an exciting prospect, if not a little daunting, and I'm enjoying getting to know the team here; it's a very supportive environment which places the needs of businesses first.
As youngster, I never imagined myself as being a career banker! But after leaving school, I secured my first job with Barclays Bank and worked in a number of branches in London.
After returning to my native South Yorkshire in 1991 I held banking roles in Hull, Leeds, Sheffield, Doncaster and Grimsby. After spending 20 years working in the same business and felt I was ready for a fresh challenge. I was approached by a colleague of mine and helped open Handelsbanken's first branch in Grimsby.
As you can imagine, moving from an established commercial banking division to a relatively new one was quite a big culture change. We launched the branch with just a phone, a laptop and an idea, but it was a great experience seeing the business grow and evolve.
Can you tell us about a deal you are particularly proud of?
Helping others to succeed has always given me a sense of achievement, but there's one deal I was involved with which I often think about. I helped a longstanding family business avoid closure by helping them access the vital financial support needed to stave off a winding up order from the Inland Revenue.
The business had a long and successful trading history, but disaster struck when the company invested in some new equipment which was vital to their operations. Delays in the equipment arriving on site placed the company in financial difficulty.
I discovered that in addition to the Inland Revenue, their bank was placing additional pressure on the business and there was a real risk of closure, particularly because of the large amount of money they had committed to the new equipment.
I was able to step in and help them. The equipment eventually arrived and the company soon returned to profitability, it's still trading to this day!
What was your favourite subject at school?
I loved finding out how things worked, especially when it came to learning about the structure of plants and animals. I always looked forward to my biology lessons and sometimes regret not continuing my studies.
….And your worst?
Art – I can't draw to save my life!
What was your first job?
I liked the idea of becoming a policeman and joining the Met Police or joining the navy and travelling the world. However, the closest I got to a career in uniform was working as a Grocery Boy at Safeway in Streatham High Road!
I loved the job and always felt quite proud when I wore my green apron and a black dickie bow. Great days!
Do you have any hobbies?
I enjoy watching football and have been a keen Sheffield Wednesday fan since childhood, although I don't get to Hillsborough as often as I would like to these days, so I'd consider myself to be more of an armchair supporter.
I've always been interested in fishing and I like to unwind and escape the pressures of the day on the riverbank, fuelling my other guilty pleasure, Carp fishing.
Tea of Coffee?
It's always been coffee – until recently. My wife has got me into drinking tea and I've not really looked back!
Do you have any guilty pleasures?
I love gadgets and tools. I think I could quite happily spend all day in a tool shop. Although I feel I should confess that I'm quite possibly, one of the worst DIYers in the history of mankind. As a result of a few DIY mishaps, my wife has banned me from owning any power tools!
One my worst happened about 12 years ago, we moved into a brand-new house. We'd bought it off the plan and where one of the first residents on the newly built estate. With smell of fresh paint still in the air, all we needed to do was add a few finishing touches to transform it into our beautiful new home.
Filled with enthusiasm, I had just one simple job – to fit the toilet roll holder. To cut a long story short, I drilled straight through one of the water pipes. Our brand new bathroom quickly began resembling a swimming pool! Fortunately for us, there was plumber on site and quickly came to our aid.
What is still on your "to do" list?
I'd love to visit Ground Zero in New York. I remember watching the television footage of the planes crashing into the twin towers and seeing the devastation caused when they collapsed. My sister went a few years ago and said it is a very haunting experience.
What advice would you give to someone who is considering a business loan?
Be prepared.
If you are considering applying for borrowing, I would also advise you to do your research. Understand what options are available to your business. I also recommend discussing any potential borrowing with your accountant.
If they are worth their salt, they'll provide guidance as to what the right step for your business should be and the implications of any loan borrowing upon your business.
When it comes to making a loan application, ask questions, especially if you don't understand something. It can be easy to be flannelled by flash suits and big words, but if it doesn't feel right, walk away and look elsewhere.