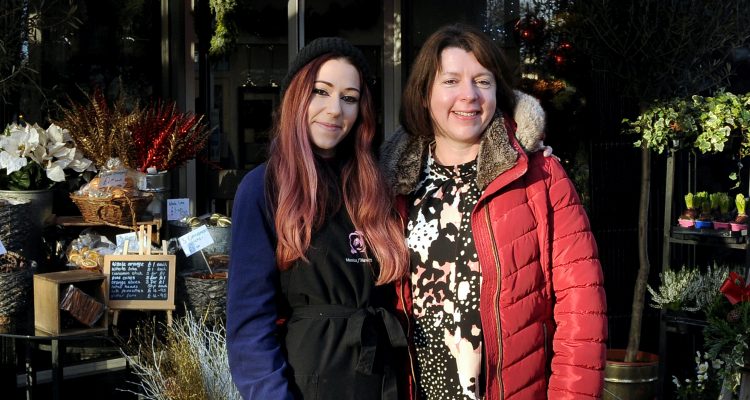 A young entrepreneur who left school with no formal qualifications before finding herself rubbing shoulders with some of Britain's best known entrepreneurs is hoping to make business bloom at a long standing Sheffield's florist after purchasing the business which transformed her future.
Life could have been very different for April Bell, who experienced considerable difficulties at school. She left school aged just 14 to be home-taught and unsure what do with her life, she approached longstanding Sheffield-based floristry business Monica F. Hewitt a year later to gain work experience and never looked back, building a successful career as a florist in her own right before deciding to purchase the business after securing help from alternative lending provider Finance For Enterprise.
First launched in 1971 by experienced Florist Monica Hewitt, the popular Middlewood Road based florist has been responsible for supporting weddings, funerals, anniversaries and birthdays for nearly 50 years. April was trained by experienced florist Annie Valentine, who worked alongside founder Monica in building and developing the business and has continued to support April as her role in the company grew from apprentice to business owner.
During her ten years working with Annie, April has successfully mastered the intricacies of floristry, successfully achieving her level two and level three floristry qualifications. Her efforts didn't go unnoticed going on to secure to a national Apprenticeship award presented to her by star of Dragon's Den Theo Paphitis and more recently April was invited to Downing Street where she rubbed shoulders with some of Britain's known entrepreneurs.
April has continued her education, achieving qualifications in English and Maths and she learned that her longstanding mentor was planning to leave the business, April began exploring the possibility of taking over the business which had played such an important role in shaping her life and turned to Finance for Enterprise for help.
Budding Florist takes the reins
Working with Investment Advisor Pam Goodison, April developed a business plan, enabling her to secure a Start Up Loan of £10,000 to purchase the company. As part of the deal, April has retained all eight members of staff working in the business and is even hoping to repay the opportunity the business provided her by creating recruiting her own apprentices.
April Bell, Monica f Hewitt owner said:
"Having worked in the business for such a long time, I felt confident about what was involved in running the business, but securing the finance to complete the purchase was a major problem. I received a lot of good advice and support along the way and after hearing about Finance For Enterprise I decided to contact them to see if they could help me. I met Pam and after discussing our plans, she was able to provide the vital loan needed to complete the purchase of the company.
"Since taking over the business I've started exploring new lines and the business has been performing really well. If you would have told me when I was 14 that within ten years I would be the owner of a successful and long-established Sheffield business I would never have believed it! I've learned so much over the past decade and working in the company has made me realise that anything can be possible.
"I'm happy to say that the funds provided by Finance for Enterprise have gone a long way, and we have now been able to take on an apprentice, which has been a very big step for me because it feels like I've come full circle."
Pam Goodison, Investment Manager at Finance for Enterprise said:
"April is a truly inspirational individual who has gone full circle, from being given an opportunity to build a career in floristry. She had spent time sorting out the legal process of purchasing the company and all that stood in her way was securing the finance needed to complete the deal.
"Working with April we were able to help her secure a Start Up Loan, which is used to help new entrepreneurs to realise their ambitions. April put together a comprehensive business plan and today she employs a team of equally passionate and dedicated people as well as giving a bright future to the longstanding business. Entrepreneurs like April are setting a fantastic example that shows with a lot of hard work and a bit of business acumen anything is possible."
Richard Bearman, Managing Director at Start Up Loans, said:
"Start Up Loans is here to help people like April gain access to the funding and support they need to start a business. What she has achieved with Monica Hewitt is commendable and I'm proud Start Up Loans has played a part in helping her and so many others across the country to realise their ambition of business ownership."
Finance for Enterprise is a delivery partner of Start-Up Loans UK, an initiative backed by the British Business Bank and designed to help new entrepreneurs with limited trading history with the ability to secure finance, allowing entrepreneurs like April to blossom, which in other circumstances would be unable to secure lending.