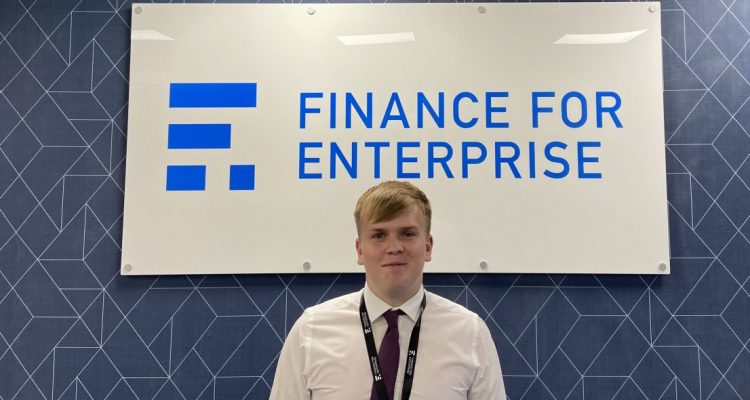 Christian Elvidge joined Finance For Enterprise as a business administration apprentice in April 2021. Now six weeks into his apprentice journey, Christian was asked by his course tutor to share a typical day at work as part of his coursework. We were so impressed with his efforts that we decided to share them here!
8:50 am – South Elmsall Train Station
My day usually begins by making the short journey from home to catch the train to work. It takes just nine minutes to travel from South Elmsall to Doncaster, followed by a short walk to the office. Depending on whether I've been rushing in the morning, I'll stop off en-route for a quick bite to eat.
9:30 – Arrive at the office
My first job of the day is always to log in to my computer and check my emails. I read through the messages I've received and reply. Today is a dress down Friday, so I've left my suit at home and swapped my usual work clothes for something a little more casual.
9:45 – First tea round of the day
I made a cup of fruit tea after asking if anyone else out of the few members of staff that were in if they wanted one.
10:00 – Meeting with Paul Howell
Part of my job as an apprentice is getting to know what the different members of the Finance For Enterprise team do, and how I can help to support their work. Paul is one of the Investment Managers at Finance For Enterprise, which means that he needs to access certain reports and account statements when speaking to clients, or processing a new application. It's my job to make sure he has all the necessary paperwork he needs.
11:00 – Planning
After my meeting with Paul, I returned to my desk to reply to emails. I'm hoping to set up meetings with other members of the team, as well as replying to requests about loan statements requested by the Investment Managers.
11:30 – Meeting with Paula Foreman
Paula is the Operations Manager at Finance For Enterprise and my line manager. I headed over to the seating area for a catchup. We discussed how things were going in terms of work and how I am finding working at the company. I'm really enjoying my time here. During our meeting, Paula tells me a little more about the work Finance For Enterprise does to help businesses. I was always very interested in business finance when I was at school and it's really interesting seeing how some of the things I was taught are being put into practice.
12:00 – Checking the post
Usually, I check the post when it arrives, but today I was a little later than normal, due to my morning meetings. I headed downstairs to get the day's post, opened it, and handed it out to the right person. All paper correspondence needs to be filed and stored correctly and it's part of my job to make sure that happens.
12:15 – Replying to the post
Today, some of the letters contained cheques and various forms which need to be returned to companies we work with. For example, banks. Some of our clients have paid us by cheque, which means these need to be allocated to different accounts. This process consists of placing the cheque into an envelope that has been franked with our logo and the 1st or 2nd class mark on it and then put into our postbag ready to be posted at the end of the working day.
12:45 – Lunch
We all receive half an hour for our lunch break, so I head over to the break room and meet some of my fellow colleagues. Since joining Finance For Enterprise, everyone has made me feel very welcome and towards the end of the week, Managing Director Andrew Austwick sometimes likes to treat us to our lunch, usually a KFC.
Most people like to share their lunch times, which means we often all sit down together and have a little chat. It's quite a nice way of getting to know my colleagues a bit better.
1:15 – Back to work
I return to my desk and quickly glance over my emails and reply to the messages I've received.
1:25 – Afternoon tea round
I make myself another fruit tea as well as offering my colleagues a drink. One of the challenges of making tea for everyone is to try and remember each order, everyone likes their tea and coffee slightly differently, but I'm beginning to get used to everyone's preferences.
1:35 – Archiving
Each afternoon I am usually set more of an involved task, typically something I haven't done before. Today's task involved archiving loans that have been repaid before they are sent off to storage.
We keep their details on file for a short period of time after the loan has been repaid in case they are needed in the future. To ensure that the right files are archived, I firstly needed to find the repaid loans in our filing cabinet
I then cross-check the physical files with the records held on our computer systems to ensure the loan has been fully repaid. After confirming the file contains the right information, I then place the folder in a box, ready for archiving.
3:40 – Stationery audit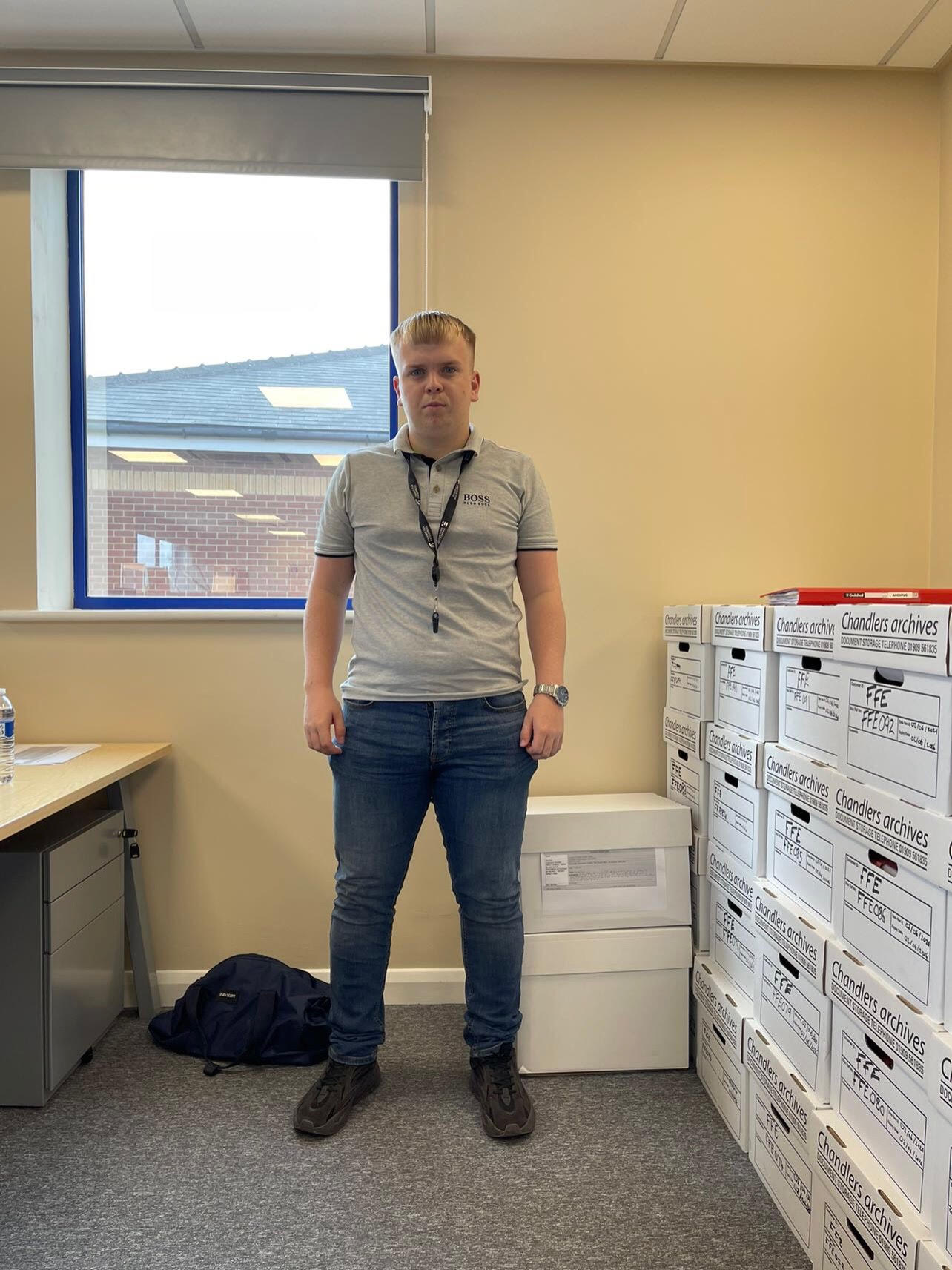 After completing my archive role, armed with my pen and trusty notebook, I began making a note of all the things we are starting to run out of. I then place an order with our supplier.
Almost immediately after calling our supplier, I receive a confirmation email. I double-check this against my order list. The new items should arrive here in the next few days.
4:00 – Homeward bound!
I say my farewells to each member of the office and head home for the evening.
There's a post box on my way back to the station, so before I leave, I collect the letters ready to be sent, post them and head back to the station. As the train leaves Doncaster, I reflect on my day's achievement, feeling proud of the work I've completed and excited about what next week will bring.